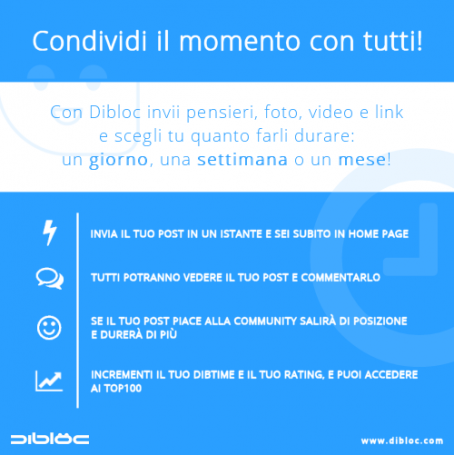 Condividi il momento con tutti!
Con Dibloc invii 💭pensieri, 📷foto, 🎥video e 🔗link, e scegli tu quanto farli durare⌚️: un giorno, una settimana o un mese!

Come funziona?

✔️ Invia il tuo post in un istante e sei subito in home page!
✔️ Tutti potranno vedere il tuo post e commentarlo!
✔️ Se il tuo post piace alla community salirà di posizione e durerà di più!
✔️ Incrementi il tuo dibTime e il tuo Rating, e puoi accedere ai TOP100!

Iscriviti subito: www.dibloc.com/account/registrazione
#dibloc #condividi #momento #amici #community #pensieri #foto #video #link #giorno #settimana #mese #24ore #24h #tempo #dib #post #app #webapp #social #2019
QRcode DIB
Comment
Write a comment of 200 caracthers max and
select one Dibly corresponds to your thoughts.
You can enter Tag, Link e Mentions.
Report this Dib if you think it has violated the terms of use.
We will see it and if it does not conform we will remove it.
Do you need help? Consult the FAQ section!