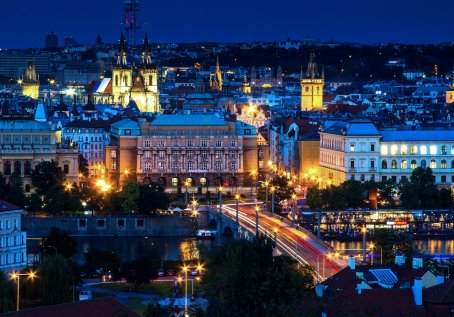 This counter indicates how much time
remaining to expiration of the Dib.
Praga è la capitale della Repubblica Ceca, ed è conosciuta come la "città dorata" o "città delle cento torri", per le sue numerose torri con la punta dorata che rispecchiano la luce del sole calante e le guglie delle chiese medievali che perforano l'orizzonte.

Praga si trova nella parte centro-occidentale della Repubblica Ceca, al centro della regione storica della Boemia ed è attraversata dal fiume Moldava, nel quale confluisce, presso il quartiere di Lahovice, il fiume Berounka.
La città di Praga si sviluppa su nove colli: Letná, Vítkov, Opyš, Větrov, Skalka, Emauzy, Vyšehrad, Karlov e infine quello più alto, il Petřín.

Quando andare?
Le temperature in pieno inverno spesso rimangono sotto lo zero anche di giorno e le minime possono scendere fino a −20 gradi.
Le estati sono tiepide, talvolta calde con temperature medie attorno ai 20 gradi (media di luglio 17,5 gradi) ma che possono toccare i 30 gradi durante le giornate assolate in piena stagione.
Le mezze stagioni sono abbastanza miti; i mesi più piovosi sono maggio e quelli estivi.

Fonte: it.wikivoyage.org/wiki/Praga
Licenza: creativecommons.org/licenses/by-sa/3.0/deed.it
#repubblicaceca #praga #viaggi
Comment
Write a comment of 200 caracthers max and
select one Dibly corresponds to your thoughts.
You can enter Tag, Link e Mentions.
Report this Dib if you think it has violated the terms of use.
We will see it and if it does not conform we will remove it.
Do you need help? Consult the FAQ section!