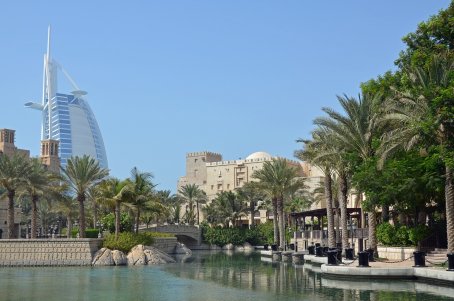 This counter indicates how much time
remaining to expiration of the Dib.
Dubai è il secondo emirato per grandezza degli Emirati Arabi Uniti, vanta una superficie di 3.900 km2, si affaccia sul Golfo Persico e conta più di 4 milioni di abitanti.

Dicembre-gennaio sono i migliori mesi per una visita a Dubai. Questo è anche il periodo in cui i prezzi degli alberghi, già salati di per sé, schizzano ancora più in alto.

Anche i mesi di ottobre, novembre, marzo risultano idonei per una visita ma è bene evitare che il proprio viaggio coincida con le date del Ramadan.

Il clima a Dubai è subtropicale e arido. Le piogge non sono frequenti e sono irregolari. Le temperature vanno da un minimo di 10 gradi a un massimo di 48 gradi, con temperatura media di 24 gradi nel mese di gennaio e 41 gradi nel mese di luglio.

Cosa vedere?

Bury Khalifa: Il grattacielo più alto del mondo su cui è possibile salire, altrimenti sono molto apprezzate le fontane alla sua base.
Jumeirah Mosque: Una delle moschee più grandi e belle di Dubai ed è un esempio di architettura islamica moderna.
Creek: Con il Gold Suk e il Spice Suk i due mercati tipici locali.
Siti archeologici: I tre principali scavi si trovano a Al Ghusais, Al Sufooh e Jumeirah.
Museo di Dubai: Il principale museo dell'emirato ed è locato nel Al Fahidi Fort. Il forte risale al 1787.

Fonte: it.wikivoyage.org/wiki/Dubai
Licenza: creativecommons.org/licenses/by-sa/3.0/deed.it
#emiratiarabiuniti #dubai #viaggi
Comment
Write a comment of 200 caracthers max and
select one Dibly corresponds to your thoughts.
You can enter Tag, Link e Mentions.
Report this Dib if you think it has violated the terms of use.
We will see it and if it does not conform we will remove it.
Do you need help? Consult the FAQ section!