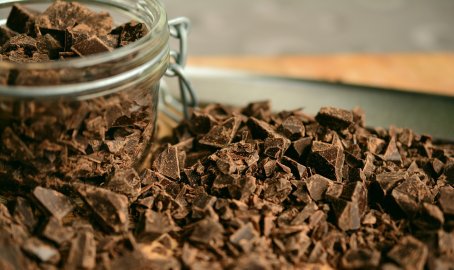 This counter indicates how much time
remaining to expiration of the Dib.
Chocolate is a typically sweet, usually brown food preparation of Theobroma cacao seeds, roasted and ground.
It is made in the form of a liquid, paste, or in a block, or used as a flavoring ingredient in other foods. Cacao has been cultivated by many cultures for at least three millennia in Mesoamerica. The earliest evidence of use traces to the Mokaya (Mexico and Guatemala), with evidence of chocolate beverages dating back to 1900 BCE.

Chocolate has become one of the most popular food types and flavors in the world, and a vast number of foodstuffs involving chocolate have been created, particularly desserts including cakes, pudding, mousse, chocolate brownies, and chocolate chip cookies. Many candies are filled with or coated with sweetened chocolate, and bars of solid chocolate and candy bars coated in chocolate are eaten as snacks. Gifts of chocolate molded into different shapes (e.g., eggs, hearts) have become traditional on certain Western holidays, such as Easter and Valentine's Day. Chocolate is also used in cold and hot beverages such as chocolate milk and hot chocolate and in some alcoholic drinks, such as creme de cacao.

Although cocoa originated in the Americas, recent years have seen African nations assuming a leading role in producing cocoa. Since the 2000s, Western Africa produces almost two-thirds of the world's cocoa, with Ivory Coast growing almost half of that amount.

Source: en.wikipedia.org/wiki/Chocolate
License: creativecommons.org/licenses/by-sa/3.0/deed.it
Comment
Write a comment of 200 caracthers max and
select one Dibly corresponds to your thoughts.
You can enter Tag, Link e Mentions.
Report this Dib if you think it has violated the terms of use.
We will see it and if it does not conform we will remove it.
Do you need help? Consult the FAQ section!