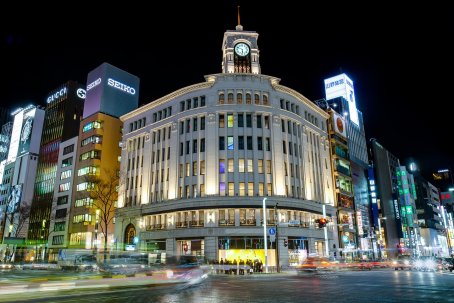 This counter indicates how much time
remaining to expiration of the Dib.
Tokyo (letteralmente "capitale orientale", trovandosi ad est della precedente capitale Kyoto) è la capitale del Giappone.

La primavera e l'autunno sono le stagioni migliori per una visita a Tokyo: temperature miti, scarsissima umidità e relativamente poche precipitazioni rendono il soggiorno piacevole.

Pur non essendo particolarmente freddo, l'inverno a Tokyo è parecchio ventoso e con scarsa umidità. Al contrario, l'estate è caratterizzata da elevatissimi tassi di umidità, che rendono le temperature massime attorno ai 30 gradi percepite ancora più alte. L'escursione termica durante la giornata è relativamente bassa, poiché di notte la temperatura tende a rimanere comunque alta. Dalla seconda metà di giugno alla prima di luglio si verifica la stagione delle piogge: nella prima metà le temperature tendono a scendere, mentre da luglio le temperature salgono portandosi dietro un forte incremento dell'umidità che rimarrà per tutta l'estate.

Enorme e variegata nella sua geografia, con oltre 2.000 chilometri quadrati da esplorare, l'area metropolitana di Tokyo, abbraccia non solo la città, ma aspre montagne a ovest e le isole subtropicali a sud.
È importante notare che, a differenza della tipica pianta urbana delle città europee, le città giapponesi - e così anche Tokyo - non hanno un concetto di "centro", in cui si concentrano le attività commerciali, di divertimento, ecc, da cui si espande poi la città. Le città giapponese si sono formate partendo dalla stazione (del treno, della metro, ecc) e da lì, espandendosi si sono conurbate l'una con l'altra.

Fonte: it.wikivoyage.org/wiki/Tokyo
Licenza: creativecommons.org/licenses/by-sa/3.0/deed.it
#giappone #tokyo #capitali #viaggi
---
Comment
Write a comment of 200 caracthers max and
select one Dibly corresponds to your thoughts.
You can enter Tag, Link e Mentions.
Report this Dib if you think it has violated the terms of use.
We will see it and if it does not conform we will remove it.
Do you need help? Consult the FAQ section!