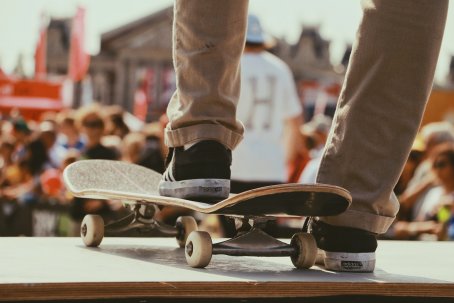 This counter indicates how much time
remaining to expiration of the Dib.
Lo skateboarding, oppure semplicemente skateboard o skate, è un "extreme sport", genere totalmente diverso dagli sport abituali, nato in California negli anni '60. In un certo senso, si può dire che lo skateboarding sia stato inventato per permettere ai surfisti di praticare il proprio sport anche in assenza di mare mosso.
Lo si pratica con uno speciale attrezzo, lo skateboard, costituito da una tavola in legno, un sandwich di acero canadese (famoso per la sua resistenza) munita di ruote montate su cuscinetti di precisione e di attacchi snodati (trucks o carrelli) che permettono di sterzare e che sono regolabili in base alla specialità, al peso o alla preferenza dell'atleta Gli strati di legno d'acero (solitamente sette) vengono tagliati, pressati ed incollati insieme in modo da garantire alla tavola (deck) grandi doti di robustezza e flessibilità.

Dal 2020, nei Giochi della XXXII Olimpiade di Tokyo, lo skateboarding diventerà una disciplina olimpica.

Lo sport è composto da molte specialità, tra le quali le più importanti sono lo street-skating, il vertical-skating, le specialità di "velocità" (tra cui lo slalom skateboarding, lo slalom boardercross, il downhill, lo streetluge), il longjump e il freestyle.
La forma e la dimensione della tavola, nonché il tipo di accessori, differiscono in base alla specialità praticata; ma le tavole sono comunque tutte concave, per fornire una maggiore stabilità e manovrabilità.

Fonte: it.wikipedia.org/wiki/Skateboarding
Licenza: creativecommons.org/licenses/by-sa/3.0/deed.it
---
Comment
Write a comment of 200 caracthers max and
select one Dibly corresponds to your thoughts.
You can enter Tag, Link e Mentions.
Report this Dib if you think it has violated the terms of use.
We will see it and if it does not conform we will remove it.
Do you need help? Consult the FAQ section!