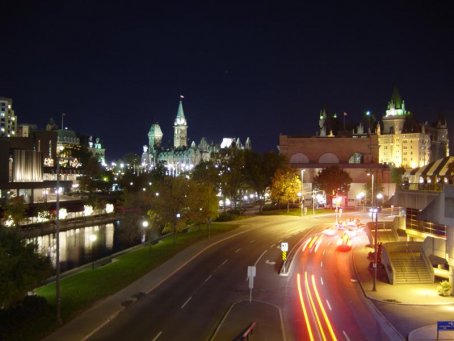 This counter indicates how much time
remaining to expiration of the Dib.
Ottawa è la capitale del Canada ma è bistrattata dai turisti per quanto goda di elevati standard di vita e abbia un centro di tutto rispetto. La città è mantenuta pulitissima, tirata a lucido ogni giorno da schiere di spazzini e le sue strade non conoscono ingorghi di traffico.

Ottawa giace sulla riva meridionale dell'omonimo fiume nel punto ove vi confluiscono le acque del fiume Rideau. Il centro cittadino è attraversato dal canale Rideau, un fossato aperto nel 1832 per timore di incursioni dagli Stati Uniti. Dichiarato Patrimonio mondiale dell'Umanità nel 2007, il canale è solcato nella bella stagione da imbarcazioni di ogni tipo mentre nei mesi invernali vi sfrecciano torme di pattinatori.

Molti degli edifici del centro sono case di epoca vittoriana dalla caratteristica facciata in mattoni. Le più antiche risalgono alla seconda metà del XIX secolo e sono coeve alla proclamazione di Ottawa come capitale in seguito alla fusione delle due province di Ontario e Québec, allora chiamate ufficialmente Upper Canada e Lower Canada.

Nonostante la sua inaspettata elevazione di rango, Ottawa rimase per molto tempo una cittadina di provincia. Fu solo dal 1960 in poi che la città cominciò ad assumere l'aspetto di una vera capitale. Il Centro Nazionale delle Arti fu aperto nel 1969.
Nel 1989 fu inaugurato a Gatineau, la città dirimpettaia di Ottawa, appena oltre il fiume, il Museo della Civilizzazione, uno dei più visitati del Canada.

Fonte: it.wikivoyage.org/wiki/Ottawa
Foto: commons.wikimedia.org/wiki/File:Ottawa_from_McKenzie_King_Bridge.jpg
Licenza: creativecommons.org/licenses/by-sa/3.0/deed.it
Comment
Write a comment of 200 caracthers max and
select one Dibly corresponds to your thoughts.
You can enter Tag, Link e Mentions.
Report this Dib if you think it has violated the terms of use.
We will see it and if it does not conform we will remove it.
Do you need help? Consult the FAQ section!