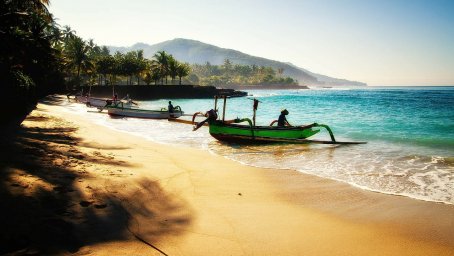 This counter indicates how much time
remaining to expiration of the Dib.
Bali è una delle oltre 17.000 isole nell'arcipelago dell'Indonesia e si trova a soli 2 km dall'estremità orientale dell'isola di Giava e a ovest di Lombok. L'isola ha circa 4 milioni di abitanti, misura 144 chilometri da est a ovest e 80 chilometri da nord a sud.

Bali è la più importante meta turistica indonesiana. Il turismo è concentrato prevalentemente nella pianura meridionale, dove sorgono le località di Kuta, Sanur, Jimbaran, Seminyak e il nuovo insediamento di Nusa Dua.

Il termine "paradiso" è molto usato a Bali e non senza motivo. La combinazione di un popolo amichevole e ospitale, una straordinaria cultura infusa di spiritualità e le spettacolari spiagge meta di surfisti e appassionati di immersioni subacquee hanno reso Bali la più importante meta turistica dell'Indonesia, senza rivali. L'80% di chi viene in Indonesia visita solo ed esclusivamente Bali.

Vicino a Jimbaran, sull'istmo che collega la parte più meridionale dell'isola, sorge l'aeroporto internazionale Ngurah Rai.
Seminyak è la parte più moderna, modaiola e lussuosa insieme a Nusa Dua. Kuta è la meta più ambita dai surfisti mentre a Ubud si ritrova serenità e l'inimitabile spirito balinese. La penisola meridionale di Bukit è la zona più arida dell'isola ma vanta numerose spiagge nascoste e reef per i surfisti più coraggiosi. Il nord dell'isola è indicato per chi cerca pace, inoltre offre i migliori fondali marini da snorkeling.

Bali è soprannominata l'Ibiza d'oriente.

Quando andare:

Fa caldo tutto l'anno. Il periodo migliore va dalla meta' di maggio a meta' ottobre: il clima e' caldo asciutto.

Fonte: it.wikivoyage.org/wiki/Bali
Licenza: creativecommons.org/licenses/by-sa/3.0/deed.it
#indonesia #bali #isole #viaggi
---
Comment
Write a comment of 200 caracthers max and
select one Dibly corresponds to your thoughts.
You can enter Tag, Link e Mentions.
Report this Dib if you think it has violated the terms of use.
We will see it and if it does not conform we will remove it.
Do you need help? Consult the FAQ section!