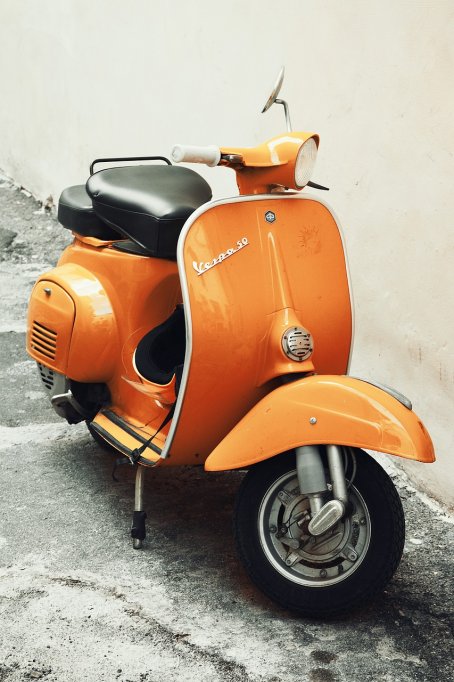 This counter indicates how much time
remaining to expiration of the Dib.
La Vespa è un modello di scooter della Piaggio, brevettato il 23 aprile del 1946, su progetto dell'ingegnere aeronautico Corradino D'Ascanio.

Si tratta di uno dei prodotti di disegno industriale più famosi al mondo nonché più volte utilizzato come simbolo del design italiano. La Vespa è stata esposta nei musei di design, arte moderna, scienza & tecnica e trasporti di tutto il mondo. Fa parte della collezione permanente del Triennale Design Museum di Milano e del MoMA di New York.

Sebbene la prima Vespa sia stata brevettata nel 1946, la sua storia può considerarsi iniziata due anni prima con la presentazione del suo progenitore l'MP5 Paperino, così denominato in analogia alla Topolino, la prima auto del popolo.

Forse la più grande innovazione di questo modello, che contribuì al suo successo planetario, fu la presenza di una carrozzeria portante, che sostituiva il telaio e che copriva integralmente il motore e le parti meccaniche principali, col risultato di una protezione efficace dalle intemperie e di poter consentire l'utilizzo della motocicletta con l'abbigliamento di tutti i giorni.
Nell'anno del lancio Piaggio immise sul mercato 2.484 scooter, che diventarono 10.535 l'anno seguente.

La Vespa è stata prodotta con varie motorizzazioni inizialmente 2 tempi. Dai modelli 50 cm3 (1963) per uso dai 14 anni senza patente e rigorosamente senza passeggero, alle 125 cm3 che potevano ospitare anche un passeggero (in particolare il modello Primavera) guidabili in Italia a partire dai 16 anni, fino alle versioni da 150 e 200 cm3 autorizzate anche al transito autostradale.

Fonte: it.wikipedia.org/wiki/Piaggio_Vespa
Licenza: creativecommons.org/licenses/by-sa/3.0/deed.it
---
Comment
Write a comment of 200 caracthers max and
select one Dibly corresponds to your thoughts.
You can enter Tag, Link e Mentions.
Report this Dib if you think it has violated the terms of use.
We will see it and if it does not conform we will remove it.
Do you need help? Consult the FAQ section!