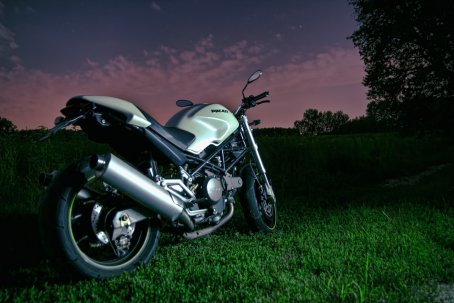 This counter indicates how much time
remaining to expiration of the Dib.
La Ducati Monster è una moto naked prodotta a partire dal 1993 dalla Ducati, prodotta in diverse cilindrate; questa motocicletta è considerata la capostipite di questa categoria, che fino ad allora aveva avuto poco successo, inoltre ispirò molte altre moto.

Dal suo debutto fino al 2007 non ha mai cambiato radicalmente il suo stile e la casa bolognese ne ha prodotti più di 150.000 esemplari.

Il debutto

Il Monster viene presentato dalla Ducati per la prima volta al pubblico al salone di Colonia nell'autunno del 1992. Questo prototipo che montava la prima versione a carburatori del motore di 904 cm3 di derivazione SuperSport raffreddata ad aria/olio, vedeva la conferma della distribuzione desmodromica.
Il telaio era, invece, costituito dal traliccio in tubi derivato dalla serie 851/888.

Nel maggio del 1993 esce nei concessionari Ducati il primo Monster, con l'unica motorizzazione di 904 cm3. Disegnato da Miguel Galluzzi, autore della precedente SS e del recente Cagiva Raptor/V-Raptor.

Il forcellone, il telaio e la sospensione progressiva (Boge) derivano dalla 851, e il resto della componentistica è di prim'ordine: impianto frenante Brembo e sospensioni Showa. Il motore (bicilindrico ad L, due valvole per cilindro e distribuzione desmodromica) è lo stesso che equipaggia la SS. La strumentazione ha cifre rosse su sfondo bianco (è previsto il solo tachimetro/contachilometri) e otto spie.

Nell'anno successivo vengono presentate due motorizzazioni "per tutti", un 400 e un 600 a carburatori, quest'ultimo diverrà in breve tempo la best seller delle vendite Ducati.

Fonte: it.wikipedia.org/wiki/Ducati_Monster
Licenza: creativecommons.org/licenses/by-sa/3.0/deed.it
Comment
Write a comment of 200 caracthers max and
select one Dibly corresponds to your thoughts.
You can enter Tag, Link e Mentions.
Report this Dib if you think it has violated the terms of use.
We will see it and if it does not conform we will remove it.
Do you need help? Consult the FAQ section!