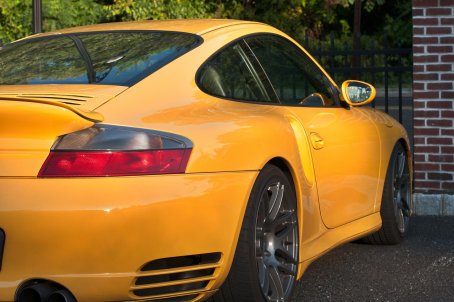 This counter indicates how much time
remaining to expiration of the Dib.
La Porsche 911 è un'autovettura sportiva prodotta dalla Porsche a partire dal 1963. È tuttora in produzione, e nel corso degli anni ha avuto molti cambiamenti. Si possono, tuttavia, distinguere due serie fondamentali: le 911 con motore raffreddato ad aria (1963-1997) e le 911 "moderne" (dal 1998 ad oggi).

La 911 prima serie

La 911 era una coupé 2+2, con motore posteriore a sbalzo, trazione posteriore, sospensioni a 4 ruote indipendenti con barre di torsione, 4 freni a disco e cambio meccanico a 5 rapporti (spesso 4 per gli USA).
Il 6 cilindri boxer raffreddato ad aria e alimentato da 2 carburatori Solex triplo corpo che la muoveva aveva una cilindrata di 1991 cm3 e una potenza massima di 130 CV.

Serie 991

Nel 2011 è stata presentata la Serie 991 (ultima serie della 911) che non si discosta molto dalla precedente (997) in fatto di estetica, fatta eccezione per il posteriore.
I motori "base" sono il 3.4 da 350 CV della Carrera e il 3.8 da 400 CV della Carrera S.
Pochi mesi dopo è stata presentata anche la Cabriolet. Il passo è stato allungato di 10 cm per favorire l'abitabilità e migliorare l'impatto estetico.
In campo meccanico una delle innovazioni più importanti riguarda la trasmissione. Viene infatti montato per la prima volta su una vettura di serie un cambio manuale a sette marce.

Fonte: it.wikipedia.org/wiki/Porsche_911
Licenza: creativecommons.org/licenses/by-sa/3.0/deed.it
---
Comment
Write a comment of 200 caracthers max and
select one Dibly corresponds to your thoughts.
You can enter Tag, Link e Mentions.
Report this Dib if you think it has violated the terms of use.
We will see it and if it does not conform we will remove it.
Do you need help? Consult the FAQ section!