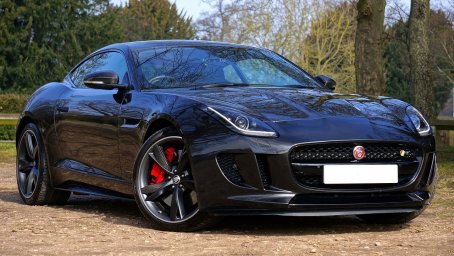 This counter indicates how much time
remaining to expiration of the Dib.
La Jaguar F-Type è un'autovettura roadster prodotta dalla Jaguar dal 2013 e proposta dalla casa automobilistica britannica come un erede spirituale della Jaguar E-Type degli anni '60.

La vettura è stata presentata con tre diversi propulsori, e cioè due V6 3.0 sovralimentati che erogano rispettivamente 340 CV e 380 CV e un V8 5.0 con compressore volumetrico 550 CV. Quest'ultimo, permette alla vettura un'accelerazione da 0 a 100 km/h in 4.3 secondi, con una velocità massima di 300 km/h.
Successivamente sono state presentate le versioni a quattro ruote motrici del modello, e la versione Jaguar F-Type R con il 5.0 V8 potenziato. La F-Type R a trazione integrale raggiunge i 100 chilometri orari in 4 secondi. Tutti i motori vengono gestiti da un cambio automatico Quickshift a 8 marce.

La carrozzeria, costruita in alluminio, porta la vettura ad un peso di circa 1600 kg. Essa, per quanto riguarda il design, presenta una doppia branchia intorno alla calandra anteriore, delle fiancate muscolose e dei fari posteriori sottili.

Nel 2013 ha esordito anche la variante di carrozzeria coupé della F-Type che mantiene tutte le caratteristiche motoristiche e meccaniche, ma viaria nell'estetica con la presenza nella parte posteriore di un tetto e un lunotto fissi molto spioventi non presenti nella roadster e nella telaistica.

Al Salone di Ginevra 2016 Jaguar presenta la F-Type SVR. Il motore è lo stesso della F-Type R con una potenza di 575 CV, che rende questo il modello di punta della gamma F-Type.

Fonte: it.wikipedia.org/wiki/Jaguar_F-Type
Licenza: creativecommons.org/licenses/by-sa/3.0/deed.it
Comment
Write a comment of 200 caracthers max and
select one Dibly corresponds to your thoughts.
You can enter Tag, Link e Mentions.
Report this Dib if you think it has violated the terms of use.
We will see it and if it does not conform we will remove it.
Do you need help? Consult the FAQ section!