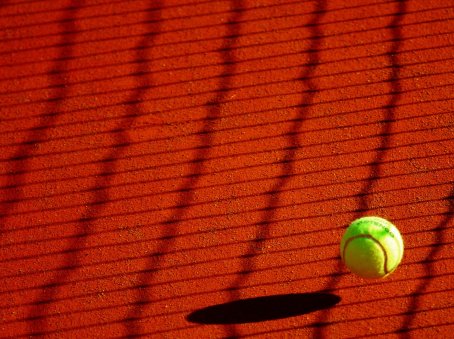 This counter indicates how much time
remaining to expiration of the Dib.
Il tennis è uno sport che vede opposti due giocatori (uno contro uno, incontro singolare) o quattro (due contro due, incontro di doppio) in un campo diviso in due metà da una rete alta circa un metro dal terreno.

I giocatori utilizzano una racchetta, come se fosse il prolungamento del braccio, al fine di colpire una palla.

Lo scopo del gioco è colpire la palla per far sì che l'avversario, posto nell'altra metà del campo da gioco, non possa ribatterla dopo il primo rimbalzo (l'obbligo del primo rimbalzo è solo in risposta alla palla messa in gioco dalla battuta dell'avversario, nelle altre fasi del gioco è consentito ribatterla anche al volo) o che battendola finisca con mandarla fuori campo o non riesca a superare la rete posta al centro.

Gli incontri si suddividono in partite (in inglese set); in base ai tipi di torneo gli incontri sono al meglio delle 3 o 5 partite; un set, o partita, è costituito da 6 o più giochi.

Al punto di un giocatore i punti vengono assegnati nella successione di "15", "30", "40", "vittoria" corrispondenti a una successione di quattro punti conquistati. Se i giocatori si trovano sul punteggio di 40 - 40, consegue la vittoria del game chi si aggiudica due punti consecutivamente.

Campo di gioco

Il rettangolo di gioco ha le seguenti dimensioni: 23,76-23,78 m x 10,97 m, compresi i corridoi laterali che sono larghi 1,37 m e sono validi solo nelle partite di doppio. La rete divisoria ha un'altezza di 0,914 m al centro e 1,07 m ai pali di sostegno che devono trovarsi a 0,914 m fuori dal campo.

Fonte: it.wikipedia.org/wiki/Tennis
Licenza: creativecommons.org/licenses/by-sa/3.0/deed.it
#tennis #racchetta #terrarossa #sport
---
Comment
Write a comment of 200 caracthers max and
select one Dibly corresponds to your thoughts.
You can enter Tag, Link e Mentions.
Report this Dib if you think it has violated the terms of use.
We will see it and if it does not conform we will remove it.
Do you need help? Consult the FAQ section!