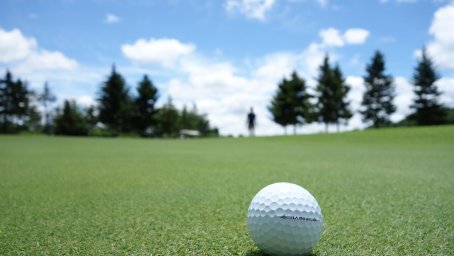 This counter indicates how much time
remaining to expiration of the Dib.
Il golf è uno sport di precisione che si pratica in un campo aperto (coltivato a prato) appositamente attrezzato, per mezzo di una palla e una serie di bastoni.

Il gioco consiste nel colpire una pallina di gomma dura (nota come palla da golf) lungo un apposito percorso, da una piazzola di partenza (il tee), fino alla buca sistemata in una zona d'arrivo (il green), mediante una successione di colpi conformi alle regole, tipicamente su più buche da conquistare lungo il percorso.
Allo scopo viene utilizzato un certo numero di bastoni da golf, di forma, peso e dimensioni diverse. La vittoria va al golfista che termina le buche stabilite (generalmente 18) con il minor numero di colpi (gara a colpi o medal), oppure a quello che abbia vinto il maggior numero di buche (gara a buche o match play).

Il golf è uno dei pochi sport a non avere un campo di gioco standardizzato: ogni campo nel mondo è diverso nelle sue caratteristiche anche se alcuni elementi si trovano ovunque.
Un campo da golf può essere situato su grandi aree in pianura, in collina, in montagna o in qualsiasi luogo dove vi siano ampi spazi verdi, e comprende generalmente uno o più percorsi di 9 o 18 buche, ciascuna con il suo tee posto ad una distanza che varia di solito tra 100 e 550 metri dalla buca.

I bastoni da golf differiscono tra loro per lunghezza, inclinazione (loft) della testa rispetto al piano verticale e si possono catalogare in tre categorie principali: i "legni", i "ferri", i putter ed una intermedia: gli "ibridi" o utility.

Fonte: it.wikipedia.org/wiki/Golf
Licenza: creativecommons.org/licenses/by-sa/3.0/deed.it
#golf #bastonidagolf #buche #sport
Comment
Write a comment of 200 caracthers max and
select one Dibly corresponds to your thoughts.
You can enter Tag, Link e Mentions.
Report this Dib if you think it has violated the terms of use.
We will see it and if it does not conform we will remove it.
Do you need help? Consult the FAQ section!