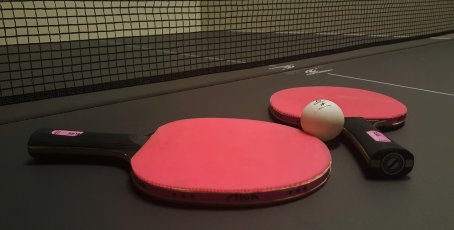 This counter indicates how much time
remaining to expiration of the Dib.
Il tennistavolo (o tennis tavolo), più popolarmente conosciuto come ping pong, è uno degli sport di maggior diffusione nel mondo ed una specialità olimpica. È stato inventato alla fine dell'800, in particolare nel 1884.

Può essere svolto a scopo ricreativo a qualsiasi età e si può giocare in luoghi ristretti, al chiuso e all'aperto.

Per la pratica agonistica sono necessari luoghi attrezzati e spaziosi al chiuso. Richiede, inoltre, un'opportuna preparazione psicofisica a causa delle sollecitazioni, sia fisiche che di concentrazione mentale, espresse nei brevi tempi di ogni scambio.

Regole

Il tennis tavolo si può giocare in due giocatori che gareggiano tra loro (singolo), oppure in due squadre di due giocatori ciascuna. Per giocare è necessaria una racchetta per ogni giocatore, una pallina e un tavolo idoneo, nonché una zona di gioco adeguatamente larga.

Al centro dell'area di gioco è posto il tavolo in legno le cui dimensioni sono: lunghezza 274 cm, larghezza 152,5 cm e altezza 76 cm.

La pallina da tennis tavolo è vuota e sferica e deve pesare precisamente 2,7 grammi e avere un diametro di 40 mm; mentre le racchette possono essere di qualsiasi dimensione, forma e peso, ma il telaio — o legno — fatta eccezione dell'impugnatura, deve essere piatto e rigido.

Canonicamente un incontro si disputa in 5 set e vince chi si aggiudica per primo tre set.
Un giocatore vince un set quando raggiunge 11 punti mentre l'avversario ne ha realizzati meno di 10.
Se nella partita i giocatori raggiungono entrambi 10 punti vince chi riesce per primo a conquistare 2 punti sull'avversario.

Fonte: it.wikipedia.org/wiki/Tennistavolo
Licenza: creativecommons.org/licenses/by-sa/3.0/deed.it
#tennistavolo #pingpong #racchetta #sport
---
Comment
Write a comment of 200 caracthers max and
select one Dibly corresponds to your thoughts.
You can enter Tag, Link e Mentions.
Report this Dib if you think it has violated the terms of use.
We will see it and if it does not conform we will remove it.
Do you need help? Consult the FAQ section!