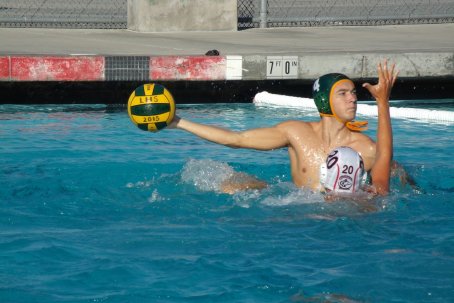 This counter indicates how much time
remaining to expiration of the Dib.
La pallanuoto o palla a nuoto (water polo) è uno sport di squadra acquatico nato nel XIX secolo in Inghilterra e in Scozia, le cui regole furono definite per la prima volta nel 1887 da William Wilson.

Regole

Una partita di pallanuoto vede affrontarsi due squadre, ognuna rappresentata in campo da sette giocatori, chiamati pallanuotisti, che possono essere sostituiti nell'arco della partita per un numero illimitato di volte, tranne nel caso commettano tre falli gravi, nel qual caso, viene decretata una espulsione definitiva con relativo obbligo di sostituzione.

Nuotando in uno specchio d'acqua, solitamente piscine con un campo di gioco in media lungo 30 metri e largo 20 metri, gli atleti devono scagliare con le mani (vige per tutto l'incontro, tranne che per il portiere, l'obbligo di toccare la palla obbligatoriamente con una mano sola) un pallone il maggior numero di volte possibile nella porta avversaria. Ogni volta che ciò avviene si effettua un punto (detto goal o rete ).
Al termine dei quattro tempi di gioco, ognuno di 8 minuti effettivi, la squadra con il maggior numero di punti è proclamata vincitrice.

Inserita nel programma olimpico fin dal 1900, la pallanuoto è diventata nel tempo uno degli sport più popolari di tale competizione.

Fonte: it.wikipedia.org/wiki/Pallanuoto
Licenza: creativecommons.org/licenses/by-sa/3.0/deed.it
#pallanuoto #piscina #waterpolo #sport
Comment
Write a comment of 200 caracthers max and
select one Dibly corresponds to your thoughts.
You can enter Tag, Link e Mentions.
Report this Dib if you think it has violated the terms of use.
We will see it and if it does not conform we will remove it.
Do you need help? Consult the FAQ section!