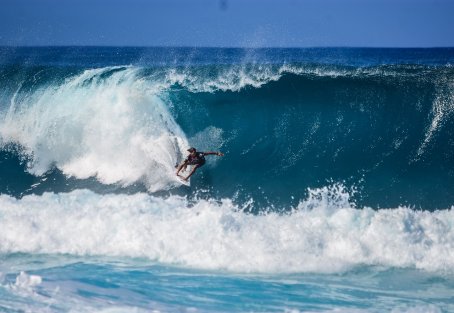 This counter indicates how much time
remaining to expiration of the Dib.
Il surf o surf da onda è uno sport acquatico che consiste nel 'cavalcare' le onde utilizzando una tavola da surf (o surfboard).
La tecnica consiste nel planare lungo la parete dell'onda, restando in piedi sulla tavola. È possibile eseguire una serie di manovre a seconda della velocità e della forma della parete d'acqua.

Le tavole hanno misure che variano non solo in base all'altezza e al peso dell'atleta, ma anche in base allo stile ed alla dimensione dell'onda. Per surfare le onde più grandi si usa una tavola gun, molto lunga e appuntita a prua e anche a poppa, dato che a volte l'onda è talmente alta e ripida, che l'unico contatto che si ha con la parete dell'onda stessa rimane solo la punta posteriore e la monopinna del gun.

La maggioranza delle tavole da surf moderne sono realizzate a partire da schiuma speciale di poliuretano resistente ai raggi UV-A (con uno o più listelli longitudinali di legno, o stringers), fibra di vetro (fiberglass) e resina di poliestere. Le più moderne tecnologie consentono la creazione di tavole in resina epossidica. Questo materiale rende le tavole più forti e leggere rispetto a quelle tradizionali in resina poliestere e fibra di vetro.

Lo stile di surfing più classico e fluido è detto longboard, che si pratica con tavole molto lunghe e con la prua arrotondata, secondo uno stile che si perde nelle origini stesse di questo sport. È molto diffuso nel mondo e ha delle competizioni dedicate.

Dai Giochi della XXXII Olimpiade di Tokyo (nel 2020) anche il surf diverrà disciplina olimpica.

Fonte: it.wikipedia.org/wiki/Surf
Licenza: creativecommons.org/licenses/by-sa/3.0/deed.it
#surf #tavoladasurf #onde #sport
Comment
Write a comment of 200 caracthers max and
select one Dibly corresponds to your thoughts.
You can enter Tag, Link e Mentions.
Report this Dib if you think it has violated the terms of use.
We will see it and if it does not conform we will remove it.
The loaded Dibler/Upper list may be incomplete!