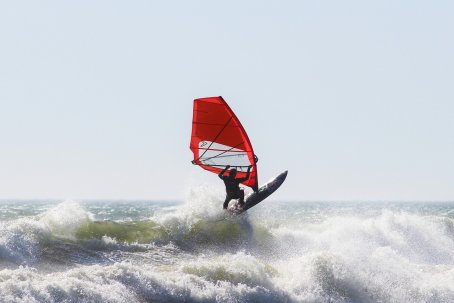 This counter indicates how much time
remaining to expiration of the Dib.
Il windsurf è un'attività sportiva nonché una specialità della vela che consiste nel muoversi sull'acqua su una tavola grazie principalmente all'azione propulsiva determinata dal vento su di una vela, anche se in alcuni particolari casi l'azione propulsiva principale, contrariamente a quanto comunemente creduto, è generata dalle onde (cosiddetta wave riding ) in maniera del tutto simile al surf da onda, con la vela di ridotte dimensioni destinata a fungere solo da elemento complementare alla spinta complessiva.

La vela è montata su un albero fissato alla tavola mediante un giunto universale (talvolta realizzato con un giunto cardanico, più spesso tramite materiale flessibile) detto 'piede d'albero' ed è sostenuta e controllata dal velista (windsurfer) con il solo ausilio di un particolare boma.

Una prima classificazione delle tavole da windsurf può essere effettuata in base alle seguenti caratteristiche:

- Tavole dislocanti non plananti (longboards):
in genere lunghe e pesanti, adatte ai principianti per avvicinarsi a questo sport e dotate di superfici veliche ridotte. Solitamente questo tipo di tavole è munita di deriva mobile posizionata al centro dello scafo.

- Tavole plananti (funboards):
in genere corte e leggere, che necessitano di maggiore esperienza e dotate di superfici veliche più grandi, comunque che permettano alla tavola di entrare in planata con una determinata intensità del vento. Questo tipo di tavole sono dotate di una serie di cinghie punta piedi (straps) sulla poppa e di cimette sul boma che vengono utilizzate agganciandosi mediante un trapezio indossato dal surfista.

Fonte: it.wikipedia.org/wiki/Windsurf
Licenza: creativecommons.org/licenses/by-sa/3.0/deed.it
#windsurf #vela #onde #vento #sport
---
Comment
Write a comment of 200 caracthers max and
select one Dibly corresponds to your thoughts.
You can enter Tag, Link e Mentions.
Report this Dib if you think it has violated the terms of use.
We will see it and if it does not conform we will remove it.
Do you need help? Consult the FAQ section!