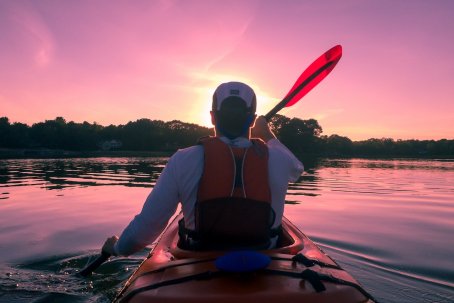 This counter indicates how much time
remaining to expiration of the Dib.
Il Kayak è un'imbarcazione sportiva che prevede la posizione di voga seduta, ed una pagaia a doppia pala con cui pagaiare su entrambi i lati.

Come in molti sport, vi sono specialità individuali, di gruppo e di squadra. In prevalenza l'obiettivo è la velocità, come nel kayak/canoa olimpico.

Nel kayak olimpico, il canoista è seduto su un seggiolino fisso, poggia i piedi su una pedaliera, detta anche puntapiedi, tenendo le gambe flesse, in modo tale da assicurare una spinta del piede sulla pedaliera, ad ogni pagaiata, per tramettere la spinta di avanzamento alla canoa.
Viene utilizzata una pagaia a due pale sfasate tra di loro (pagaia doppia incrociata), in genere con un angolo che varia dai 50 agli 80 gradi.

È provvisto di un timone, posto sotto lo scafo, in poppa, che viene azionato da un sistema di tiranti che terminano con una 'crociera' e una piccola asta che si frappone tra i piedi. Il canoista muove i piedi lateralmenete per azionare il movimento del timone quando necessario.

Secondo le varie specifiche della ICF (International Canoe Federation), le imbarcazioni devono rispettare molte regole riguardo al peso, alla costruzione e alla lunghezza.

Fonte: it.wikipedia.org/wiki/Canoa/kayak
Licenza: creativecommons.org/licenses/by-sa/3.0/deed.it
Comment
Write a comment of 200 caracthers max and
select one Dibly corresponds to your thoughts.
You can enter Tag, Link e Mentions.
Report this Dib if you think it has violated the terms of use.
We will see it and if it does not conform we will remove it.
Do you need help? Consult the FAQ section!