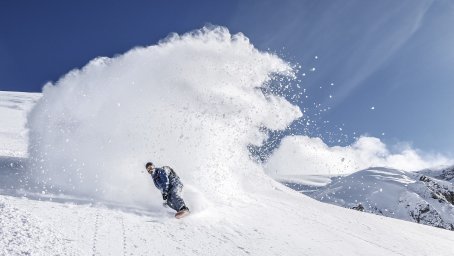 This counter indicates how much time
remaining to expiration of the Dib.
Lo snowboarding, conosciuto più semplicemente come snowboard, è uno sport di scivolamento sulla neve, nato negli anni sessanta negli Stati Uniti.
Lo si pratica utilizzando una tavola costruita a partire da un'anima di legno e provvista di lamine e soletta in materiale sintetico, simili a quelle dello sci.

Esistono due modi di scendere con una tavola ai piedi, vengono denominati con i termini regular e goofy.
Regular è caratterizzata dal fatto che il piede sinistro, in una normale discesa, si trova davanti, vicino al nose (punta della tavola), mentre il piede destro si troverà dietro, vicino al tail (coda della tavola). L'impostazione goofy ovviamente sarà l'inverso del regular. Piede destro davanti e piede sinistro dietro.

Il Freestyle è la disciplina più spettacolare dello snowboarding e per molti anche la più divertente. L'obiettivo di questo stile è di eseguire manovre (trick) ed evoluzioni sfruttando la conformazione del terreno o le strutture artificiali (salti, ringhiere, piattaforme ecc.).
Per la messa in pratica molte stazioni sciistiche mettono a disposizione zone appositamente progettate dette snowpark. Ha molto in comune con lo skateboard (disciplina dalla quale eredita strutture come l'half-pipe o i rails) e la maggior parte delle competizioni è dedicata a questo stile.

Lo snowboard è divenuto disciplina olimpica nel 1998. Ai Giochi olimpici invernali del 2006 si sono disputate anche le gare di snowboardcross, sia maschile che femminile.

Fonte: it.wikipedia.org/wiki/Snowboard
Licenza: creativecommons.org/licenses/by-sa/3.0/deed.it
#snowboard #tavola #trick #neve #sci #sport
Comment
Write a comment of 200 caracthers max and
select one Dibly corresponds to your thoughts.
You can enter Tag, Link e Mentions.
Report this Dib if you think it has violated the terms of use.
We will see it and if it does not conform we will remove it.
Do you need help? Consult the FAQ section!