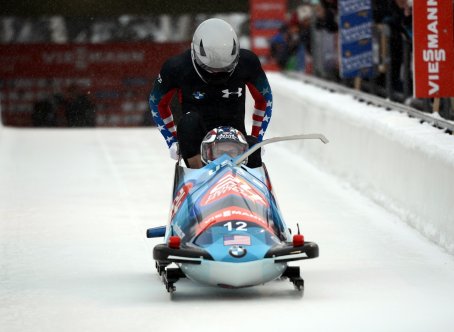 This counter indicates how much time
remaining to expiration of the Dib.
Il bob (dall'inglese bobsleigh) è uno sport invernale nel quale delle squadre (composte da 2 o 4 persone) eseguono discese cronometrate lungo una pista ghiacciata, stretta e tortuosa, a bordo di un mezzo dotato di pattini sterzanti (chiamato appunto bob), spinto all'avvio dai membri della squadra e successivamente dalla forza di gravità. Una pista moderna deve essere attorno ai 1 500 m di lunghezza e avere almeno 15 curve.
A seconda del numero di componenti dell'equipaggio si parla di Bob a due o di Bob a quattro.

Un bob può raggiungere facilmente una velocità di 130 km/h e in alcune curve l'equipaggio è sottoposto ad accelerazioni laterali pari a cinque volte l'accelerazione di gravità (5g).

I bob moderni combinano leghe in metallo leggero, pattini in acciaio e carrozzerie aerodinamiche in materiali compositi.
I bob da competizione devono avere una lunghezza massima di 3,80 metri per il bob a 4 e di 2,70 metri per il bob a 2. In entrambi i casi la larghezza massima è di 0,67 metri.
Il peso massimo (compreso l'equipaggio) è di 630 kg per il bob a 4 e di 390 kg per il bob a 2. Possono essere aggiunte delle zavorre per raggiungere i limiti, in quanto maggiore è il peso, più veloce è il mezzo.

Un equipaggio di bob a 2 è composto da un pilota e da un frenatore, cui si aggiungono nel bob a 4 due laterali che hanno come compito principale quello di aiutare nella spinta (fase iniziale di 15 metri).

Questo sport fa parte del programma dei Giochi olimpici invernali dalla prima edizione del 1924.

Fonte: it.wikipedia.org/wiki/Bob
Licenza: creativecommons.org/licenses/by-sa/3.0/deed.it
#bob #piste #velocita #neve #sport
Comment
Write a comment of 200 caracthers max and
select one Dibly corresponds to your thoughts.
You can enter Tag, Link e Mentions.
Report this Dib if you think it has violated the terms of use.
We will see it and if it does not conform we will remove it.
Do you need help? Consult the FAQ section!