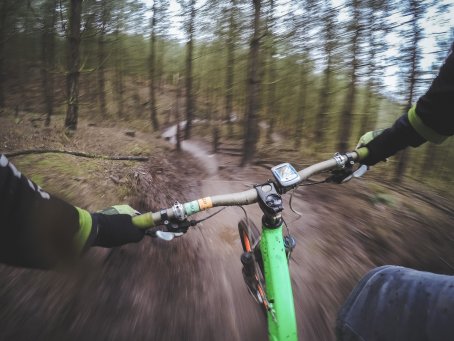 This counter indicates how much time
remaining to expiration of the Dib.
Il mountain biking è uno sport che consiste nel guidare particolari biciclette chiamate mountain bike in fuoristrada, spesso su terreno sconnesso.
Rispetto alle normali biciclette, le mountain bike sono progettate per aumentarne la robustezza e l'efficienza su terreni irregolari.

Il mountain biking può in generale essere diviso in diverse categorie: cross country, cicloescursionismo, enduro, downhill, freeride, slopestyle, dirt jumping e trial. La gran parte del mountain biking però ricade nella 'pedalata' non agonistica delle categorie cross country e cicloescursionismo.

Si tratta di uno sport individuale che richiede resistenza fisica e mentale, equilibrio, capacità di guida e autosufficienza. I mountain biker più evoluti percorrono discese ripide e tecniche e, nel caso di freeride, downhill e dirt jumping compiono evoluzioni aeree più o meno articolate, saltando da strutture naturali o artificiali.

Nel 1996, in occasione dei Giochi della XXVI Olimpiade, la gara di mountain bike specialità cross country, fu aggiunta agli eventi dei Giochi olimpici estivi.

Fonte: it.wikipedia.org/wiki/Mountain_biking
Licenza: creativecommons.org/licenses/by-sa/3.0/deed.it
#mountainbiking #biciclette #cicloescursionismo #fuoristrada #sport
Comment
Write a comment of 200 caracthers max and
select one Dibly corresponds to your thoughts.
You can enter Tag, Link e Mentions.
Report this Dib if you think it has violated the terms of use.
We will see it and if it does not conform we will remove it.
Do you need help? Consult the FAQ section!