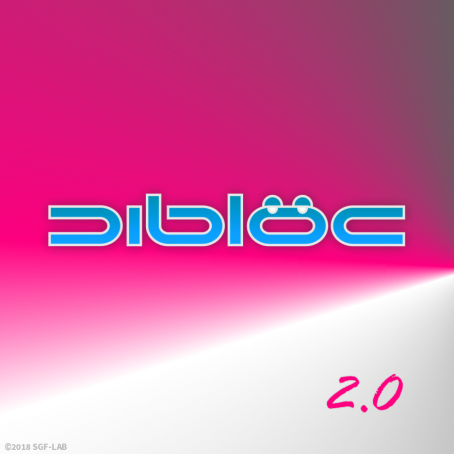 Nuova release: Dibloc 2.0!
Il percorso di sviluppo della prima social webApp con contenuti a tempo prosegue e lo fa portando con se sia tante novità che i suoi tratti distintivi: ovvero innovazione e semplicità d'uso!

Ora tutti i Dib pubblicati possono essere ricercati nel motore di ricerca interno e al tempo stesso linkati a loro volta nei nuovi Dib postati, attraverso il semplice inserimento dell'ID numerico, unico per ogni post!

Rinnovata l'interfaccia di pubblicazione Live, la prima tra i social network ad offrire - mediante l'impiego di un editor visuale WYSIWYG - la possibilità di comporre il post istantaneamente e con l'aspetto finale da pubblicato, senza preoccuparsi di effettuare inutili anteprime o avere successive 'brutte sorprese'!

In più da adesso, tutti potranno provare le potenzialità di Dibloc 2.0, anche senza essere iscritti!
È difatti attivo l'account 'Guest Dibler' che consente l'invio gratuito di commenti e nuovi Dib a tutti gli utenti che non hanno ancora un proprio profilo; si potrà quindi partecipare come ospiti alle discussioni e pubblicare nuovi post a tempo, con immagini, video e link da condividere, su qualsiasi argomento interessante!

Infine, Dibloc ha scelto di implementare la tecnologia AMP sviluppata da Google nelle proprie pagine, per incrementare così il supporto ai dispositivi mobili, grazie alla particolare velocità di caricamento offerta dalla memorizzazione in cache dei Dib pubblicati ed indicizzati, sempre mantenendo l'impostazione multi-piattaforma della webApp, che le consente di adattarsi a qualsiasi device (dallo smartphone alla smart-tv) ed essere caricata in tempi brevissimi!


Scopri tutti i dettagli sulla versione della webApp Dibloc e sulle nuove caratteristiche:

www.dibloc.com/info/versione
www.dibloc.com/info/caratteristiche
#dibloc20 #nuova #release #motorediricerca #dib #idnumerico #post #tempo #webapp #wysiwyg #social #network #guest #amp #google #versione #smartphone #smarttv #2018
Comment
Write a comment of 200 caracthers max and
select one Dibly corresponds to your thoughts.
You can enter Tag, Link e Mentions.
Report this Dib if you think it has violated the terms of use.
We will see it and if it does not conform we will remove it.
The loaded Dibler/Upper list may be incomplete!