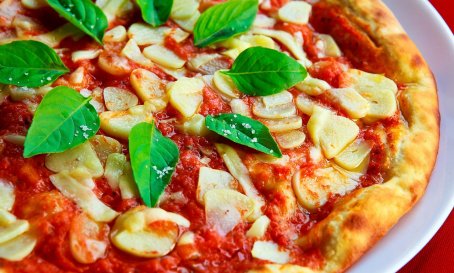 This counter indicates how much time
remaining to expiration of the Dib.
La pizza è un prodotto gastronomico salato che consiste in un impasto solitamente a base di farina e acqua che viene spianato e condito con pomodoro e mozzarella ed altri ingredienti, e cotto al forno.
Originario della cucina napoletana, è oggi, insieme alla pasta, l'alimento italiano più conosciuto all'estero.

La pizza napoletana è l'unico tipo di pizza italiano riconosciuto in ambito nazionale ed europeo. Dal 4 febbraio 2010, infatti, è ufficialmente riconosciuta come Specialità tradizionale garantita della Comunità Europea.

Essa si presenta come una pizza tonda dalla pasta morbida e dai bordi alti (cornicione). Tale rigonfiamento del cornicione è dovuto all'aria, che durante la fase di manipolazione del panetto si sposta dal centro verso l'esterno. Nell'impasto classico napoletano non è ammesso nessun tipo di grasso. Soltanto acqua, farina, lievito (di birra o naturale) e sale.

Nella più stretta tradizione prevede solo due varianti per quanto riguarda il condimento:

Pizza marinara: con pomodoro, aglio, origano e olio extravergine di oliva.
Pizza Margherita: con pomodoro, mozzarella STG a listelli, mozzarella di bufala campana DOP a cubetti o Fior di latte o Provola affumicata campana, basilico e olio extravergine di oliva.

La cottura della pizza napoletana, infine, avviene sempre ed esclusivamente tramite l'utilizzo del forno a legna e mai quindi utilizzando altri modi di cottura come per esempio il forno elettrico. Oggi la pizza napoletana è uno dei piatti più diffusi al mondo ed è presente in quasi tutti i ristoranti e locali di cucina
italiana all'estero con il nome pizza napoletana o pizza Napoli.

Fonte: it.wikipedia.org/wiki/Pizza
Licenza: creativecommons.org/licenses/by-sa/3.0/deed.it
#pizza #pomodoro #mozzarella #piatti #cibo
QRcode DIB
Comment
Write a comment of 200 caracthers max and
select one Dibly corresponds to your thoughts.
You can enter Tag, Link e Mentions.
Report this Dib if you think it has violated the terms of use.
We will see it and if it does not conform we will remove it.
Do you need help? Consult the FAQ section!