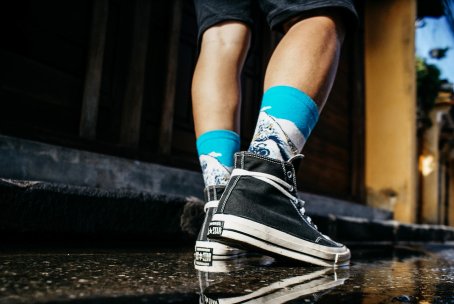 This counter indicates how much time
remaining to expiration of the Dib.
Le Chuck Taylor All-Stars o All Star sono una linea di scarpe di tela e gomma prodotte dalla Converse. Furono prodotte per la prima volta nel 1917 come tentativo della Converse di entrare nel mercato delle scarpe per il basket.
Diventarono molto popolari in seguito alla scelta del cestista statunitense Chuck Taylor di adottarle come sue calzature preferite. È per questo motivo che dopo alcune piccole modifiche nel 1932 la scarpa prese il nome attuale e le venne apposta la firma di Chuck Taylor.

Furono le scarpe leader del basket fino agli anni settanta. Le calzarono migliaia di giocatori di ogni lega e nazionalità. Nell'NBA divennero celeberrime le All-Star nere basse di Wilt Chamberlain.

Negli anni settanta e ottanta molti musicisti e cantanti di gruppi rock, heavy metal, hard rock, punk rock, ecc. Indossavano abitualmente queste scarpe (Es. Angus Young degli AC/DC, i membri dei Ramones, Slash ex chitarrista dei Guns N' Roses ma anche Kurt Cobain leader dei Nirvana nei primi anni novanta).
Così negli anni queste scarpe si sono diffuse anche tra i giovani fans e il pubblico di massa.

Negli ultimi anni sono tornate molto popolari, anche grazie alla scelta dell'azienda di produrre numerosissime variazioni sul tema, cambiando colori, materiali e forma delle scarpe originali. Le All Star sono oggi disponibili in tinta unita di moltissimi colori oppure con disegni di vario tipo, come frutta, fiori e svariate fantasie, oltre ad essere prodotte in pelle, velluto o panno in numerose versioni invernali.

Fonte: it.wikipedia.org/wiki/Chuck_Taylor_All-Stars
Licenza: creativecommons.org/licenses/by-sa/3.0/deed.it
#converse #allstar #chucktaylor #scarpe
Sono un classico intramontabile!
Comment
Write a comment of 200 caracthers max and
select one Dibly corresponds to your thoughts.
You can enter Tag, Link e Mentions.
Report this Dib if you think it has violated the terms of use.
We will see it and if it does not conform we will remove it.
Do you need help? Consult the FAQ section!