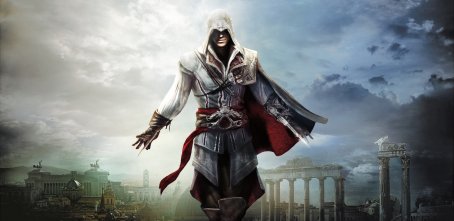 This counter indicates how much time
remaining to expiration of the Dib.
Assassin's Creed compie 10 anni
Assassin's Creed (abbreviato in AC) è una serie di videogiochi action-adventure sviluppati da Ubisoft Montréal e pubblicati da Ubisoft per console e PC.

Al 2017 la serie conta dieci capitoli principali (Assassin's Creed, Assassin's Creed II, Assassin's Creed: Brotherhood, Assassin's Creed: Revelations, Assassin's Creed III, Assassin's Creed IV: Black Flag, Assassin's Creed: Rogue, Assassin's Creed: Unity, Assassin's Creed: Syndicate, Assassin's Creed: Origins) e sette spin-off (Assassin's Creed: Altaïr's Chronicles, Assassin's Creed: Bloodlines, Assassin's Creed II: Discovery, Assassin's Creed III: Liberation, Assassin's Creed: Pirates, Assassin's Creed: Chronicles e Assassin's Creed Identity), oltre a materiali tie-in come romanzi, fumetti, cortometraggi e lungometraggi.

La serie ha riscosso molto successo sia dal pubblico che dalla critica, con oltre 74 milioni di copie vendute fino ad aprile 2014, diventando la serie più comprata della Ubisoft.
L'ispirazione per la creazione viene dal romanzo del 1938 Alamut dello sloveno Vladimir Bartol, ed è spesso considerata il successore spirituale di Prince of Persia.

L'esperienza di gioco è basata sul concetto di open world, con molti elementi tratti dal parkour. La trama, che viene narrata attraverso salti temporali di varie epoche, vede la lotta tra l'Ordine Templare, un gruppo che ha come obiettivo il totale controllo sulla vita degli uomini per dar loro uno scopo e guidarli alla vera pace, e la Confraternita degli Assassini, un'altra fazione che invece vuole migliorare il mondo ispirando la giustizia ed eliminando i tiranni.

Fonte: it.wikipedia.org/wiki/Assassin's_Creed_(serie)
Licenza: creativecommons.org/licenses/by-sa/3.0/deed.it
#assassinscreed #ubisoft #videogioco
Comment
Write a comment of 200 caracthers max and
select one Dibly corresponds to your thoughts.
You can enter Tag, Link e Mentions.
Report this Dib if you think it has violated the terms of use.
We will see it and if it does not conform we will remove it.
Do you need help? Consult the FAQ section!