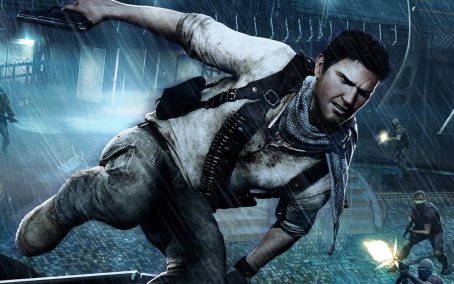 This counter indicates how much time
remaining to expiration of the Dib.
Uncharted è una serie di videogiochi sviluppati da Naughty Dog e pubblicati da Sony Interactive Entertainment per PlayStation 3 e PlayStation 4.
La storia narra le avventure di Nathan Drake, un archeologo e cacciatore di tesori statunitense.

Uncharted: Drake's Fortune è il primo gioco della serie, sviluppato da Naughty Dog e pubblicato da Sony Computer Entertainment per PlayStation 3 nel 2007. Il gioco narra le vicende di Nathan Drake, presunto discendente dell'esploratore Sir Francis Drake, che cerca di trovare il tesoro perduto di El Dorado, con l'aiuto del suo amico Victor "Sully" Sullivan e della giornalista Elena Fisher.

I capitoli successivi sono stati:

Uncharted 2: Il covo dei ladri (2009)
Uncharted 3: L'inganno di Drake (2011)
Uncharted: L'abisso d'oro (spin-off 2011)
Uncharted: Fight for Fortune (spin-off 2012)
Uncharted 4: Fine di un ladro (2016)
Uncharted: L'eredità perduta (spin-off 2017)

Fonte: it.wikipedia.org/wiki/Uncharted
Licenza: creativecommons.org/licenses/by-sa/3.0/deed.it
#uncharted #naughtydog #videogioco
QRcode DIB
Comment
Write a comment of 200 caracthers max and
select one Dibly corresponds to your thoughts.
You can enter Tag, Link e Mentions.
Report this Dib if you think it has violated the terms of use.
We will see it and if it does not conform we will remove it.
Do you need help? Consult the FAQ section!