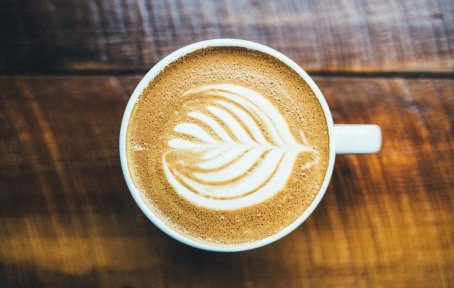 This counter indicates how much time
remaining to expiration of the Dib.
Come preparare un Cappuccino da bar in casa - Parte 1
Chiunque adori il cappuccino, vorrebbe prepararlo a casa riuscendo ad ottenere lo stesso buon sapore di quello che siamo soliti prendere al bar, ma non sempre è facile.
Vi spieghiamo come fare un cappuccino perfetto italiano, utilizzando una classica macchina da espresso casalinga.


Cosa serve

Innanzitutto procuriamoci una lattiera in acciaio inox da 35 o 50 cl per preparare la crema di latte da unire al caffè, poi delle tazze da cappuccino da 150 ml e ovviamente, del latte fresco intero (a temperatura di frigo) e un'ottima miscela di caffè!


La preparazione

Cominciamo col preparare un normale espresso da 25/30 ml nella tazza da cappuccino, regolandoci con 25 secondi di erogazione del caffè.
Passiamo poi a predisporre la macchina per l'erogazione del vapore, assicurandoci di espellere qualsiasi residuo di acqua (il vapore deve essere secco).

Dopodiché versiamo 125 ml di latte nel bricco di acciaio (1/3 della sua capacità) e incliniamo la lancia vapore di circa 45 gradi, immergendola per 0,5 cm nel latte.

Ora eroghiamo il vapore stando attenti a raggiungere una pressione sufficiente a far roteare il latte nel bricco - si creerà un vortice - e nel giro di pochi secondi incominceremo ad osservare il livello della schiuma/crema salire, e dovremo assecondarla sfilando man mano la lancia dalla lattiera.

A questo punto interromperemo la fase di montatura, solo quando il latte avrà raggiunto una temperatura attorno ai 65/70 gradi, per evitare che sia troppo freddo o che vada a bollire; la temperatura corretta la potremo avvertire toccando il bricco: se scotterà, sarà quella giusta.

continua...

Leggi la seconda parte: #818
#cappuccino #perfetto #italiano #caffe #cornetto #latte #latteart #preparazione #ricetta #bar #segreto #crema #schiuma #casa #lattiera #tazza #espresso #vapore
---
Comment
Write a comment of 200 caracthers max and
select one Dibly corresponds to your thoughts.
You can enter Tag, Link e Mentions.
Report this Dib if you think it has violated the terms of use.
We will see it and if it does not conform we will remove it.
Do you need help? Consult the FAQ section!