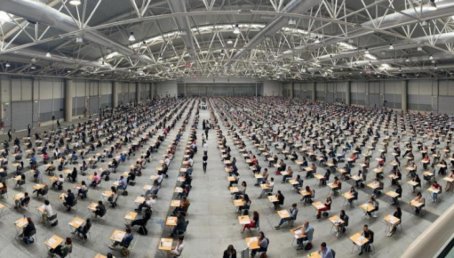 This counter indicates how much time
remaining to expiration of the Dib.
Risultati preselezione Concorso Ripam Regione Campania
Terminate le prove preselettive riguardanti il concorso per 2.175 posti nella Pubblica Amministrazione campana, che hanno visto più di 140 mila persone impegnate dal 2 fino al 24 di settembre, alla Mostra d'Oltremare di Napoli; ora si attendono gli esiti della correzione delle stesse, che avverrà tramite lettori ottici.

Notizia certa è che dal termine delle prove ad adesso, tutti i fogli a lettura ottica contenenti le risposte dei candidati agli 80 quiz, sono stati trasferiti da Napoli alla sede di Roma del Formez, per essere - dai primi di ottobre - corretti pubblicamente.

Si pensa quindi che, ragionevolmente, i risultati con la graduatoria finale della preselezione del concorso pubblico Ripam, indetto dalla Regione Campania, possano essere pubblicati per la metà di ottobre sul sito dell'ente: riqualificazione.formez.it

Tra tutti i partecipanti ne verranno selezionati circa 9 mila, che accederanno alla prima prova scritta; per i candidati non resta quindi che attendere ed incrociare le dita! ✌️
#concorso #concorsone #regione #campania #ripam #risultati #formez #pubblicamministrazione #preselezione #prove #preselettive #napoli #mostradoltremare #roma #graduatoria
QRcode DIB
Speriamo che vada bene... 😱

CI SONO NOVITA'

Dal giorno 17 ottobre inizieranno le operazioni di correzione! 👍
Comment
Write a comment of 200 caracthers max and
select one Dibly corresponds to your thoughts.
You can enter Tag, Link e Mentions.
Report this Dib if you think it has violated the terms of use.
We will see it and if it does not conform we will remove it.
Do you need help? Consult the FAQ section!