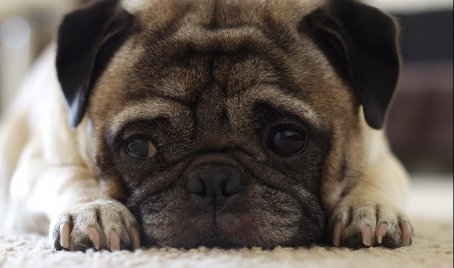 This counter indicates how much time
remaining to expiration of the Dib.
Il carlino è una razza canina di origine cinese riconosciuta dalla Federazione Cinofila Internazionale.

Razza canina molto antica è stata raffigurata in numerosi dipinti e sculture cinesi sin dal 400 a.C.. Si è poi diffusa nel Seicento in Europa occidentale, in particolare nei Paesi Bassi ed in Gran Bretagna, grazie al successo ottenuto nella Casa d'Orange e nel Casato degli Stuart.
Il carlino ha tratti fisici molto peculiari che lo rendono unico nel suo genere e differente da tutti gli altri cani ed è, sin dalla sua origine, considerato come cane da compagnia.

Il carlino è un cane da compagnia molossoide di piccola taglia brachicefalo ovvero col muso schiacciato. In generale, questa razza presenta un aspetto piuttosto robusto e compatto ed è solita muoversi con le gambe parallele ed un passo dondolante. Il mantello è corto, liscio, morbido e lucente. In particolare queste due ultime caratteristiche si ravvisano negli esemplari la cui alimentazione è equilibrata.

La testa è, nel complesso, grande, rotonda e massiccia mentre il muso è corto, rugoso, rotondo e presenta un tartufo nero sporgente. Le orecchie, sempre nere, piccole e sottili, vellutate al tatto possono essere 'a bottone' o 'a rosa' invece gli occhi sono sporgenti, espressivi, rotondi, grossi e di colore scuro lucente. Il naso è corto e molto schiacciato mentre la coda è arricciata ed arrotolata sul dorso.

Gli arti sono di media lunghezza, diritti e forti. L'altezza al garrese, ridotta nel tempo tramite accurate selezioni, solitamente, è compresa tra i 25 e i 30 centimetri e non supera i trentadue mentre il peso ideale oscilla tra i 6,3 e gli 8,1 kilogrammi.

Fonte: it.wikipedia.org/wiki/Carlino_(razza_canina)
Licenza: creativecommons.org/licenses/by-sa/3.0/deed.it
QRcode DIB
Comment
Write a comment of 200 caracthers max and
select one Dibly corresponds to your thoughts.
You can enter Tag, Link e Mentions.
Report this Dib if you think it has violated the terms of use.
We will see it and if it does not conform we will remove it.
Do you need help? Consult the FAQ section!