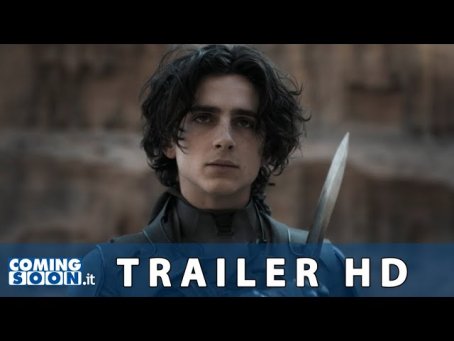 There was a problem while loading the video!
This counter indicates how much time
remaining to expiration of the Dib.
Trailer italiano del nuovissimo film diretto da Denis Villeneuve Dune reboot tratto dall'omonimo romanzo di Frank Herbert.

L'attesa pellicola ambientata nel futuro, narra la storia del giovane Paul Atreides (Timothée Chalamet) e del viaggio che dovrà compiere verso un lontano e pericoloso pianeta per mettere in salvo la sua gente.
Parallelamente si svolgerà un oscuro conflitto per assicurarsi il controllo di una preziosissima risorsa presente sul pianeta: "la Spezia", capace di sbloccare il massimo potenziale umano!

Il ricco cast vedrà tra i protagonisti anche Rebecca Ferguson, Dave Bautista, Stellan Skarsgard, Charlotte Rampling, Oscar Isaac, Jason Momoa, Zendaya, Josh Brolin e Javier Bardem.

L'ultima trasposizione cinematografica del besta seller "Dune" risale al 1984, film cult di David Lynch in cui vi fu anche la partecipazione di Sting e gli effetti speciali firmati dall'italiano Carlo Rambaldi, padre di Alien ed ET - due 'mostri sacri' della fantascienza moderna.

Video source: www.youtube.com/watch?v=6nRk05odiEg
#dune #trailer #film #reboot #denisvilleneuve #video #cinema #timotheechalamet #rebeccaferguson #davebautista #jasonmomoa #sting #spezia #fantascienza #2020
QRcode DIB
Comment
Write a comment of 200 caracthers max and
select one Dibly corresponds to your thoughts.
You can enter Tag, Link e Mentions.
Report this Dib if you think it has violated the terms of use.
We will see it and if it does not conform we will remove it.
Do you need help? Consult the FAQ section!