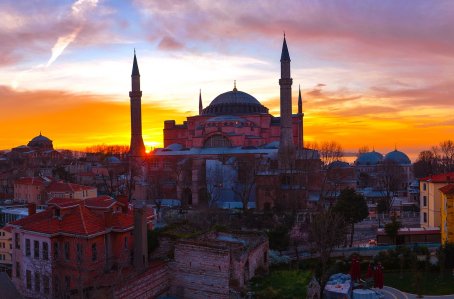 This counter indicates how much time
remaining to expiration of the Dib.
Istanbul (in passato chiamata anche Costantinopoli) è la maggiore città della Turchia.

Con monumenti storici e opere storiche in eccesso, Istanbul è una delle destinazioni turistiche più popolari e allettanti. Il dilagare del cemento dovuto alle costruzioni di nuovi alloggi e infrastrutture sta però compromettendo i suoi splendidi paesaggi.

La quota maggiore di turisti sono tedeschi. Poi russi, americani statunitensi, italiani, francesi, arabi e iraniani. Nel 2008, la città metropolitana accolse circa sette milioni visitatori, quasi un milione in più di Roma. Nel 2014, ebbe il nono posto nella classifica delle città più visitate al mondo "Top 100 City Destinations" di Euromonitor, con 11,8 milioni visitatori che arrivarono nella città metropolitana.

Con 14.657.434 abitanti censiti nel 2015, la popolazione della città metropolitana di Istanbul e dei suoi limiti comunali rimane in continuo aumento, ed ha ormai superato Londra con i suoi 13.614.409 Abitanti stimati nel 2013.

Il territorio della città metropolitana di Istanbul è suddiviso in trentanove municipi (belediye in turco), di cui 14 con il 35.29% della popolazione situati nella parte asiatica e 25 con il 64,70% della popolazione situati nella parte europea.

La città metropolitana di Istanbul si estende su ambedue i lati del Bosforo che separa l'Asia dall'Europa e collega il Mare di Marmara al Mar Nero.

Quando andare:

L'inverno è freddo e umido ed è caratterizzato da un'alternanza fra periodi miti e piovosi, e periodi invece più rigidi e nevosi.
L'estate è calda e molto umida, mentre la primavera e l'autunno sono miti e confortevoli.

Fonte: it.wikivoyage.org/wiki/Istanbul
Licenza: creativecommons.org/licenses/by-sa/3.0/deed.it
#turchia #istanbul #capitale #viaggi
---
Comment
Write a comment of 200 caracthers max and
select one Dibly corresponds to your thoughts.
You can enter Tag, Link e Mentions.
Report this Dib if you think it has violated the terms of use.
We will see it and if it does not conform we will remove it.
Do you need help? Consult the FAQ section!