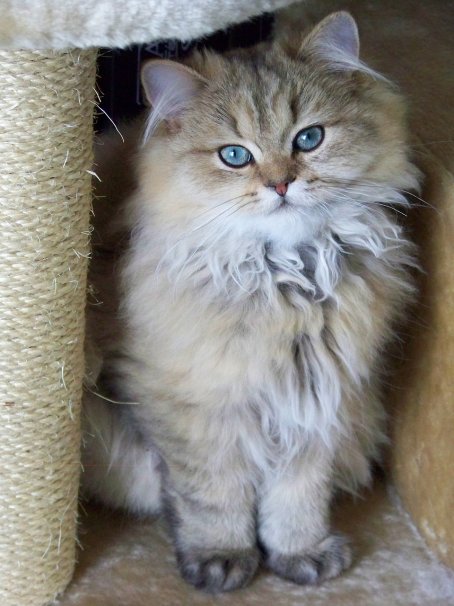 This counter indicates how much time
remaining to expiration of the Dib.
Il gatto persiano è un gatto domestico, originario dell'Asia Minore. I primi esemplari furono portati in Europa nel 1626 da Pietro Della Valle. Alla razza fu dato il nome di gatto d'angora o stranamente, gatto francese. Quando poi, successivamente, dall'Iran venne importata una varietà di gatti più piccoli e tarchiati e col pelo lungo, venne creata la razza persiana.

Molti sono gli allevamenti di questa specie. Il lungo e fluente pelo è il suo fascino e la sua bellezza, la colorazione del manto consta di circa duecento combinazioni di colori: fra le più diffuse, quelle a colori solidi (bianco, crema, nero, blu, cioccolato, lilla e rosso ), e, per il tipo tortie, tonalità a squama di tartaruga di colore nero o blu-crema, ma anche cioccolato o lilla.

La Fédération Internationale Féline (FIFE) ha diviso in 3 gruppi il gatto persiano, scegliendo per ogni gruppo una ripartizione di colore: il persiano bicolore con due terzi di colore solido e un terzo di bianco; il persiano arlecchino ha cinque sesti di mantello bianco mentre il colore copre un sesto della superficie; il persiano van con chiazze di colore solo sulla testa e sulla coda.

Dotati di carattere docile e pacifico, i gatti persiani sono molto affettuosi e particolarmente adatti alla compagnia. Non necessitano di grandi spazi in quanto passano la maggior parte del giorno spostandosi flemmaticamente da una stanza all'altra e dormendo su ogni divano o poltrona di casa.

Infine c'è da notare che i maschi sono molto più grandi delle femmine: i primi arrivano a pesare circa 6 kg e mezzo; le femmine pesano intorno a 3,5 Kg.

Fonte: it.wikipedia.org/wiki/Persiano_(razza_felina)
Licenza: creativecommons.org/licenses/by-sa/3.0/deed.it
#gattopersiano #gatti #animali
QRcode DIB
Comment
Write a comment of 200 caracthers max and
select one Dibly corresponds to your thoughts.
You can enter Tag, Link e Mentions.
Report this Dib if you think it has violated the terms of use.
We will see it and if it does not conform we will remove it.
Do you need help? Consult the FAQ section!