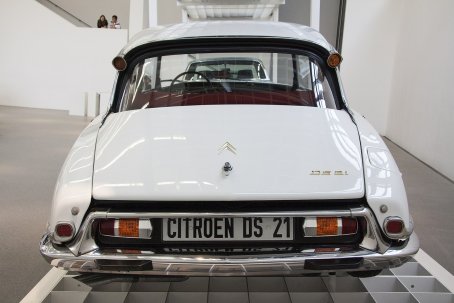 This counter indicates how much time
remaining to expiration of the Dib.
The Citroën DS is a front-engine, front-wheel-drive executive car that was manufactured and marketed by the French company Citroën from 1955 to 1975 in sedan, wagon/estate and convertible body configurations.
Italian sculptor and industrial designer Flaminio Bertoni and the French aeronautical engineer André Lefèbvre styled and engineered the car. Paul Magès developed the hydropneumatic self-levelling suspension.

Noted for its aerodynamic, futuristic body design and innovative technology, the DS set new standards in ride quality, handling, and braking and was the first production car equipped with disc brakes.

Citroën sold 1,455,746 examples, including 1,330,755 built at the manufacturer's Paris Quai André-Citroën production plant.

The DS placed third in the 1999 Car of the Century poll recognizing the world's most influential auto designs.

Fonte: en.wikipedia.org/wiki/Citroën_DS
Licenza: creativecommons.org/licenses/by-sa/3.0/deed.it
QRcode DIB
Comment
Write a comment of 200 caracthers max and
select one Dibly corresponds to your thoughts.
You can enter Tag, Link e Mentions.
Report this Dib if you think it has violated the terms of use.
We will see it and if it does not conform we will remove it.
Do you need help? Consult the FAQ section!