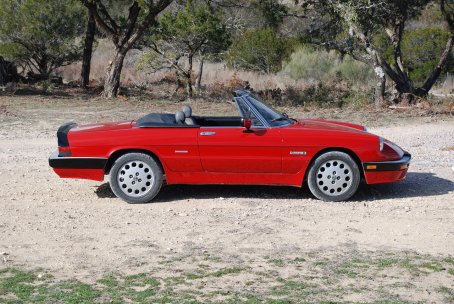 This counter indicates how much time
remaining to expiration of the Dib.
The Alfa Romeo Spider (105/115 series) or "Duetto" is a roadster produced by the Italian manufacturer Alfa Romeo from 1966 to 1993 — with small run of 1994 models for the North American market.
The successor to the Giulia Spider, it remained in production for almost three decades with only minor aesthetic and mechanical changes. The first three series were assembled by Pininfarina in Grugliasco and the fourth series in San Giorgio Canavese. The last Spider was produced in April 1993—the last rear wheel drive Alfa Romeo before the Alfa Romeo 8C Competizione of 2007.

The Alfa Romeo Spider was based on Giulia mechanicals, including its Alfa Romeo twin cam inline-four, independent front and solid axle rear suspension, and unibody construction, incorporating the relatively new principles of crumple zones into the front and rear.
Following the evolution the other Giulia sport variants, the Spider was powered by a 1.6 L engine, later received the 1.3 L 1300, 1.8 L 1750 and finally 2.0 L 2000 engines.

In May 2012, Fiat announced an agreement with Mazda, finalized in January 2013, to co-develop a new Spider for 2015 based on the Mazda MX-5 platform.
However, a modern interpretation of the Fiat 124 Sport Spider will be produced instead.

Fonte: en.wikipedia.org/wiki/Alfa_Romeo_Spider
Licenza: creativecommons.org/licenses/by-sa/3.0/deed.it
#alfaromeo #spider #duetto #cars
Comment
Write a comment of 200 caracthers max and
select one Dibly corresponds to your thoughts.
You can enter Tag, Link e Mentions.
Report this Dib if you think it has violated the terms of use.
We will see it and if it does not conform we will remove it.
Do you need help? Consult the FAQ section!