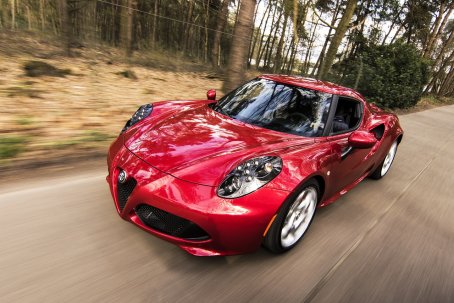 This counter indicates how much time
remaining to expiration of the Dib.
The Alfa Romeo 4C (Type 960) is a mid-engined, lightweight, rear-wheel drive sports car. Available in coupé and spider body style, it uses a carbon fiber tub, front and rear crash box, and hybrid rear subframe mainly out of aluminum to keep weight at 895 kilograms (1,973 lb) and 1,050 kilograms (2,315 lb) in the United States. The 4C is Alfa Romeo's first mass-produced vehicle of the 21st century to re-enter the North American automotive market.

The 4C uses a new all-aluminium 1.75 L (1,742 cc) inline 4 cylinder turbocharged engine producing 240 horsepower (180 kW) at 6000 rpm. The engine has been designed for minimum weight. The engine's combined fuel consumption 6.8 L/100 km (42 mpg-imp; 35 mpg-US). 0–62 miles per hour (0–100 km/h) acceleration is achieved in 4.5 seconds and the top speed is 258 km/h (160 mph), the power-to-weight-ratio being just 0.267 hp/kg (8.22 lb/hp).

The production car was unveiled at the 2013 Geneva Motor Show, followed by 2013 Essen 'Techno Classica', Goodwood Festival of Speed 2013, Moscow Raceway, 2013 Frankfurt Motor Show.

Fonte: en.wikipedia.org/wiki/Alfa_Romeo_4C
Licenza: creativecommons.org/licenses/by-sa/3.0/deed.it
#alfaromeo #4c #coupe #spider #cars
QRcode DIB
Comment
Write a comment of 200 caracthers max and
select one Dibly corresponds to your thoughts.
You can enter Tag, Link e Mentions.
Report this Dib if you think it has violated the terms of use.
We will see it and if it does not conform we will remove it.
Do you need help? Consult the FAQ section!