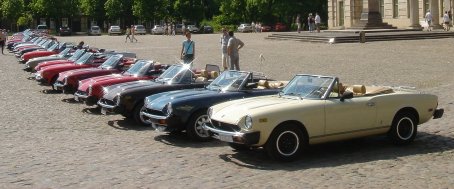 This counter indicates how much time
remaining to expiration of the Dib.
The Fiat 124 Sport Spider
The Fiat 124 Sport Spider is a monocoque, front-engine, rear drive 2+2 convertible sports car manufactured by Fiat Automobiles for model years 1966-1980.
Designed and manufactured by Italian carrozzeria Pininfarina, the 124 Spider debuted at the November 1966 Turin Auto Show. Fiat later marketed the car as the 2000 Spider (1979-1982), and Pininfarina marketed the car at the end of its production as the Pininfarina Spider Azzura (1983-1985).

The four-cylinder engine used in the spider and coupé is a double overhead cam, aluminum crossflow head version of the sedan's pushrod unit.
It started in 1966 with a capacity of 1438 cc progressively increasing to 1608 cc in 1970 (although this was reduced to 1,592 cc in 1973), 1,756 cc in 1974 and finally 1,995 cc in 1979. The Fiat twin cam engine was designed by ex-Ferrari engineer Aurelio Lampredi.
Bosch fuel injection replaced the previously used Weber carburetors midway through 1980.

The 124 Spider was sold in Europe and the U.S. From its introduction until the 1975 model year when it was modified to comply with new U.S. Regulations and no European version was produced. Sales in Europe resumed when Pininfarina took over production in 1983 under the name Pininfarina Europa Spider.

In 2015 a successor of the Fiat 124 Spider was presented at the LA Auto Show.

Fonte: en.wikipedia.org/wiki/Fiat_124_Sport_Spider
Licenza: creativecommons.org/licenses/by-sa/3.0/deed.it
#fiat #124sportspider #spider #cars
QRcode DIB
Comment
Write a comment of 200 caracthers max and
select one Dibly corresponds to your thoughts.
You can enter Tag, Link e Mentions.
Report this Dib if you think it has violated the terms of use.
We will see it and if it does not conform we will remove it.
Do you need help? Consult the FAQ section!