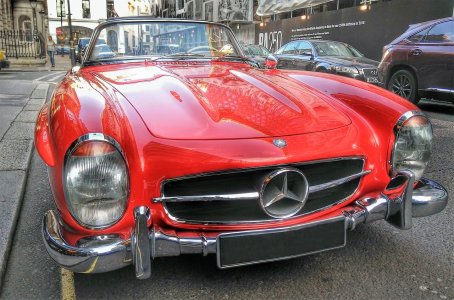 This counter indicates how much time
remaining to expiration of the Dib.
Mercedes-Benz 300 SL Roadster
Introdotta nel 1957, la 300 SL Roadster (W198 II) si differenziava dalla precedente coupé per molti aspetti. Il più evidente era chiaramente la differente configurazione di carrozzeria, stavolta con portiere ad apertura tradizionale, rese possibili da un'adeguata rivisitazione al telaio a traliccio tubolare, privato di parte dei tubi della linea di cintura ed irrobustito per compensazione mediante tubi posti tra la zona del tunnel della trasmissione e la parte relativa alla coda, onde mantenere la rigidità torsionale nonostante l'assenza del tetto.
Esteticamente, la roadster propone anche un frontale dove spiccano i nuovi fari anteriori a sviluppo verticale che contribuiscono a distinguerla nettamente dalla più piccola 190 SL.

Novità se ne ebbero anche dal punto di vista tecnico: il motore (6 cilindri in linea di 3 litri) beneficiò di un nuovo asse a camme, più spinto, in modo da portare la potenza massima a 225 CV. Nuove soluzioni anche nel retrotreno, dotato di un mollone trasversale di compensazione delle spinte laterali, in modo da sopperire ai difetti del retrotreno utilizzato sulla coupé.

Nel 1958, per la 300 SL Roadster viene messo a disposizione, con sovrapprezzo, l'hard-top. Nel 1961, vi furono altre consistenti novità, costituite dal nuovo motore M198 III con monoblocco in lega di alluminio, dai freni a disco e dalla nuova scatola dello sterzo.
Le prestazioni rimasero considerevoli, anche se leggermente inferiori. A seconda del rapporto al ponte, la velocità massima era compresa tra i 215 ed i 250 km/h.

La produzione della 300 SL Roadster cessò nel 1963.

Fonte: it.wikipedia.org/wiki/Mercedes-Benz_W198
Licenza: creativecommons.org/licenses/by-sa/3.0/deed.it
#mercedesbenz #300slroadster #vintage #auto
QRcode DIB
Comment
Write a comment of 200 caracthers max and
select one Dibly corresponds to your thoughts.
You can enter Tag, Link e Mentions.
Report this Dib if you think it has violated the terms of use.
We will see it and if it does not conform we will remove it.
Do you need help? Consult the FAQ section!