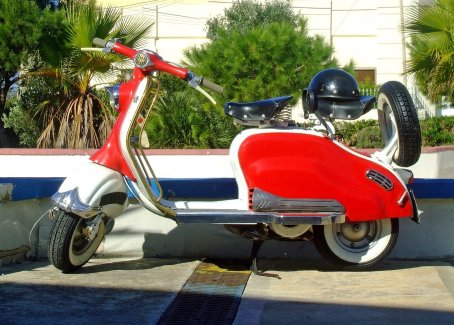 This counter indicates how much time
remaining to expiration of the Dib.
La Lambretta è uno scooter italiano prodotto dalla industria meccanica Innocenti di Milano, nel quartiere Lambrate, dal 1947 al 1972. Il nome "Lambretta" deriva dal fiume Lambro, che scorre nella zona in cui sorgevano proprio gli stabilimenti di produzione.

Come la Piaggio Vespa, anche la Lambretta aveva un motore a 2 tempi funzionante a miscela olio-benzina, 3 o 4 marce, con una cilindrata che variava dai 39 ai 198 cm3.

Diversamente dalla Vespa, che è stata costruita con un telaio costituito da un solo pezzo, la Lambretta aveva una struttura tubolare più rigida su cui veniva assemblata la carrozzeria.
I primi modelli prodotti presentavano la caratteristica della "carrozzeria scoperta", distinguendosi quindi totalmente dalla Vespa (totalmente carenata), diventando il tipico segno di riconoscimento dello scooter milanese. Comunque i successivi modelli prodotti, esattamente dal modello C del 1950, furono presentati anche in versione carenata; proprio questo modello, criticato dalla rivale Piaggio per la somiglianza concettuale con la Vespa, ebbe un gran successo tanto che dal 1957 in poi la Lambretta fu sempre prodotta con carrozzeria "chiusa".

Altra sostanziale differenza rispetto alla Vespa sta nella collocazione del motore. Nella Lambretta era disposto in posizione centrale, diversamente dalla concorrente che presentava il motore disassato sul lato destro del motociclo.

Fonte: it.wikipedia.org/wiki/Innocenti_Lambretta
Licenza: creativecommons.org/licenses/by-sa/3.0/deed.it
#innocenti #lambretta #scooter #motorea2tempi #vintage
Comment
Write a comment of 200 caracthers max and
select one Dibly corresponds to your thoughts.
You can enter Tag, Link e Mentions.
Report this Dib if you think it has violated the terms of use.
We will see it and if it does not conform we will remove it.
Do you need help? Consult the FAQ section!