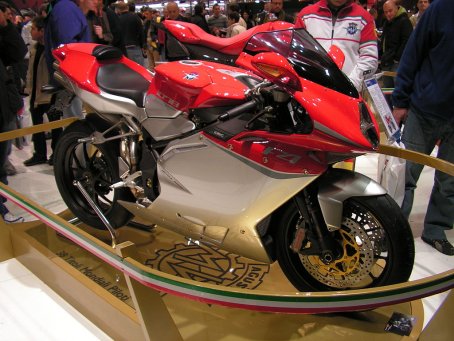 Questo contatore ti indica il tempo in ore
che manca allo scadere del Dib.
The MV Agusta F4 was the motorcycle that launched the resurrection of MV Agusta in 1998.
The F4 was created by motorcycle designer Massimo Tamburini at CRC (Cagiva Research Center), following his work on the Ducati 916.
The F4 has a four pipe undertail exhaust, single-sided swingarm, large front forks (49 or 50 mm diameter) and traditional MV Agusta red and silver livery. The F4 is also one of the few production superbikes to have a hemispherical chamber 4 valves per cylinder engine.


Engine

The F4 engine is a liquid cooled inline four cylinder four-stroke with two overhead camshafts DOHC 16 radial valves, electronic multipoint injection, induction discharge electronic ignition, with engine displacements of 749.5 cc (45.74 cu in), 998 cc (60.9 cu in), and 1,078 cc (65.8 cu in).
The engine was derived from the 1990–1992 Ferrari Formula One engine. Early in the design process Ferrari engineers assisted in the development of the engine. MV (Cagiva at the time) quickly deviated from the Ferrari design, but they kept one important feature, the radial valves.
The F4 engine is unique in the sense that it is the only radial valved motorcycle engine currently in production.

The first mass-produced F4 1000, the F4 1000 S, was released in 2005 and came with a 166-horsepower (122 kW) engine.

Fonte: en.wikipedia.org/wiki/MV_Agusta_F4_series
Licenza: creativecommons.org/licenses/by-sa/3.0/deed.it
#mvagusta #f4 #ferrari #motorcycle #motors
Commenta
Scrivi un commento di max 200 caratteri e
seleziona un Dibly corrispondente al tuo
pensiero. Puoi inserire Tag, Link e Citazioni.
Puoi segnalarci questo Dib se pensi che abbia violato le norme d'uso.
Lo visioneremo e se non conforme provvederemo a rimuoverlo.
Hai bisogno di una mano? Consulta la sezione FAQ di Dibloc!