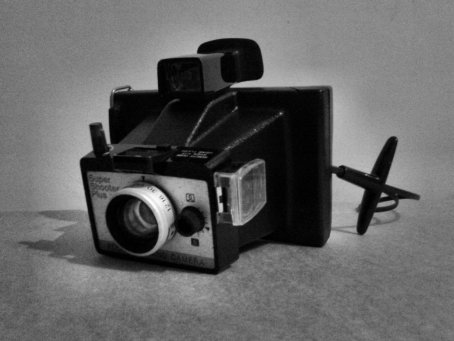 La Polaroid Super Shooter Plus
Se si parla di Polaroid chiunque ricorderà le foto istantanee di formato quadrato con il bordo bianco, usate da tante generazioni prima dell'avvento della fotografia digitale. Ma la sua reale diffusione, se ben il primo esemplare risalga al lontano 1947, la si deve ai modelli introdotti negli anni '70, i primi ad avere un corpo rigido di plastica (al posto del soffietto) e un prezzo accessibile a tutti.
Un esempio è la Polaroid Super Shooter Plus che venne prodotta dal 1975 al 1977 e introdusse queste caratteristiche, abbinate poi ad una linea inconfondibile e una forte praticità di utilizzo.

Scendendo nel dettaglio, era dotata di otturatore automatico ed esposimetro - funzionanti con due comuni pile stilo - con regolatore della luminosità, in più aveva l'obbiettivo con regolazione della messa a fuoco, l'attacco per i flash-cube e un'inconsueta guida d'uso metallica alle spalle della fotocamera, che fungeva anche da contenitore per lo sviluppo della fotografia appena scattata.

Ne risultavano foto rapide e molto personali, lontane certo dalla perfezione, ma con una forte connotazione artistica, gettando così le basi per l'attuale lomografia.
#polaroid #polaroidsupershooterplus #fotoistantanee #fotografia #1975 #lomografia
QRcode DIB
Comment
Write a comment of 200 caracthers max and
select one Dibly corresponds to your thoughts.
You can enter Tag, Link e Mentions.
Report this Dib if you think it has violated the terms of use.
We will see it and if it does not conform we will remove it.
Do you need help? Consult the FAQ section!