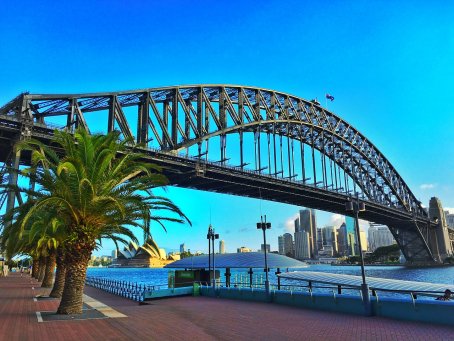 This counter indicates how much time
remaining to expiration of the Dib.
Sydney è la capitale dello stato australiano del Nuovo Galles del Sud ed è probabilmente la città più turistica e visitata dell'Australia. Raccoglie circa un quinto della popolazione nazionale con una forte presenza multietnica, soprattutto asiatica.
La città, o meglio dire i cittadini, sono sempre in continua lotta con Melbourne per esaltare la bellezza ed unicità della propria città, ed ogni evento sportivo è un valido pretesto per questo continuo antagonismo. Certo è che l'Harbour Bridge, l'Opera House e la favolosa baia in cui risiede Sydney sono difficile da contrastare, sia a livello nazionale che mondiale. Aggiungete un clima sempre temperato, con giornate calde anche d'inverno, e vi sarete fatti un'idea di quale paradiso possa essere questa città. È pur vero che Melbourne offre un più vasto programma culturale e di eventi sportivi, una architettura Giorgiana e Vittoriana che in Sydney è oramai sparita ed una vivibilità tra le più invidiabili al mondo.
Se il vostro programma permette la visita di un'unica città in Australia, allora Sydney, con i suoi simboli, deve essere nella lista. Immancabile.

Quando andare:

L'estate di Sydney è abbastanza lunga. Parte da novembre per terminare ad aprile. Le temperature in questi mesi sono sempre abbastanza elevate, tra 25 e 40 gradi, e le piogge possono arrivare in modo marcato, ma comunque con breve durata. Gennaio è probabilmente il mese con più eventi, Capodanno e Australian Day sopra tutti; l'inverno è molto temperato, e non sono rare le giornate con 20 gradi e più!

Fonte: it.wikivoyage.org/wiki/Sydney
Licenza: creativecommons.org/licenses/by-sa/3.0/deed.it
---
Comment
Write a comment of 200 caracthers max and
select one Dibly corresponds to your thoughts.
You can enter Tag, Link e Mentions.
Report this Dib if you think it has violated the terms of use.
We will see it and if it does not conform we will remove it.
Do you need help? Consult the FAQ section!