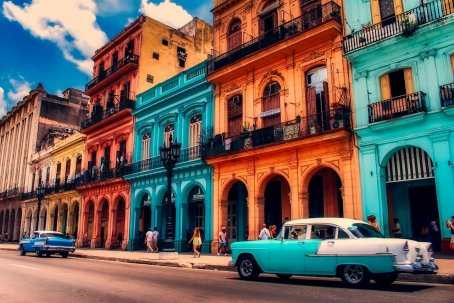 This counter indicates how much time
remaining to expiration of the Dib.
Cuba è la maggiore isola dei Caraibi tra l'Oceano Atlantico a Nord e il mar dei Caraibi a sud. Dista 150 km dalle Key West, le isole coralline oltre l'estrema punta meridionale della Florida; la sua capitale è L'Avana (Havana).

Prima della rivoluzione del 1959, Cuba era una destinazione popolare tra i cittadini degli Stati Uniti ma dopo quell'anno il turismo dall'estero cessò del tutto.
Fu nel 1990 che il governo locale cambiò politica adottando misure per incentivare il turismo straniero. I Nordamericani non potevano comunque approfittarne in base a leggi nazionali che vietano ancora l'ingresso nel paese anche se le norme possono essere aggirate raggiungendo Cuba da un terzo scalo, i canadesi sono per numero i primi turisti stranieri a Cuba.

Le presenze turistiche sono aumentate di parecchio e oggi nei centri turistici più famosi come Varadero, Cayo Largo, Cayo Santa Maria, Cayo Coco e Cayo Guillermo, Santa Lucia e Guardalavaca Holguin, la scelta degli alloggi è ampia e va dagli alberghi a 5 stelle alle economiche "casas particulares" ovvero camere in affitto presso privati presenti quasi esclusivamente in città.

Cuba è la seconda destinazione turistica nell'area dei Caraibi, dopo Repubblica Dominicana e prima di Giamaica e Bahama.

Quando andare:

Essendo compresa tra i 20 e i 23 gradi di latitudine Nord, Cuba presenta un clima tipicamente tropicale, moderato dalla presenza del mare e da masse di aria fredda che giungono dall'America del Nord. A luglio le medie sono attestate sui 27 gradi e a gennaio sui 22 gradi.

Fonte: it.wikivoyage.org/wiki/Cuba
Licenza: creativecommons.org/licenses/by-sa/3.0/deed.it
#caraibi #cuba #havana #viaggi
QRcode DIB
Comment
Write a comment of 200 caracthers max and
select one Dibly corresponds to your thoughts.
You can enter Tag, Link e Mentions.
Report this Dib if you think it has violated the terms of use.
We will see it and if it does not conform we will remove it.
Do you need help? Consult the FAQ section!