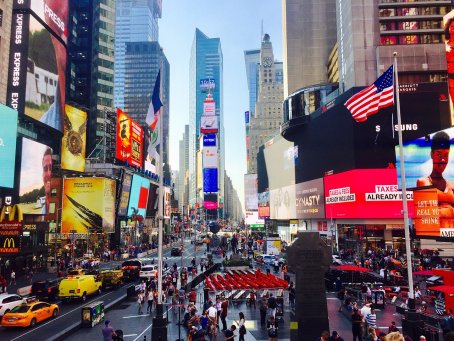 This counter indicates how much time
remaining to expiration of the Dib.
New York è la più grande metropoli degli Stati Uniti, appartenente all'omonimo stato nonché una delle città più visitate al mondo.

L'"Ombelico del mondo", la "Grande mela" (the Big Apple), la "città che non dorme mai", la "capitale del mondo", la "città verticale", come è stata via via soprannominata, è certamente una fra le città più importanti ed uno fra i maggiori centri finanziari del mondo.

Come polo culturale fra i più conosciuti del mondo occidentale è meta di un flusso turistico che probabilmente non ha eguali. L'essere poi sede delle Nazioni Unite,conferisce credibilità all'affermazione dei suoi abitanti secondo cui è, a tutti gli effetti, la capitale del mondo.

New York City è uno dei centri principali a livello mondiale per quanto riguarda l'economia, la cultura, la politica, l'industria delle comunicazioni, della musica, della moda e del cinema. Qui si trovano alcuni dei musei più importanti del mondo, gallerie d'arte e teatri.
A New York hanno la loro base alcune delle compagnie più importanti del pianeta, è sede delle Nazioni Unite e si trovano numerosi consolati e ambasciate. La città è talmente grande e importante che di fatto ha un'influenza su tutto il mondo.

Quando andare:

New York City ha un clima umido continentale e le quattro stagioni sono ben marcate. Le estati sono calde e umide, mentre l'inverno è sempre piuttosto freddo e non mancano le nevicate anche violente. L'autunno in genere è fresco e secco mentre la primavera è davvero piacevole anche se tendenzialmente piovosa.

Fonte: it.wikivoyage.org/wiki/New_York
Licenza: creativecommons.org/licenses/by-sa/3.0/deed.it
QRcode DIB
Comment
Write a comment of 200 caracthers max and
select one Dibly corresponds to your thoughts.
You can enter Tag, Link e Mentions.
Report this Dib if you think it has violated the terms of use.
We will see it and if it does not conform we will remove it.
Do you need help? Consult the FAQ section!