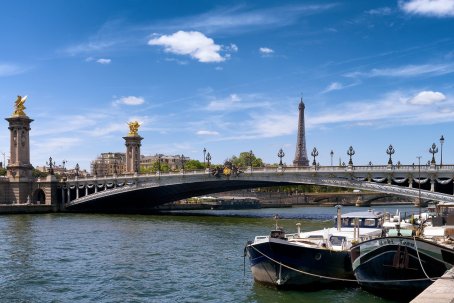 This counter indicates how much time
remaining to expiration of the Dib.
Paris, the cosmopolitan capital of France, is one of the largest agglomerations in Europe, with 2.2 million people living in the dense central city, 7 million people in the Metropole du Grand Paris and almost 12 million people living in the metropolitan area.

In the north of the country on the river Seine, Paris has the reputation of being the most beautiful and romantic of all cities, brimming with historic associations and remaining vastly influential in the realms of culture, art, fashion, food and design.
Dubbed the City of Light (la Ville Lumière) and Capital of Fashion, it is home to some of the world's finest and most luxurious fashion designers and cosmetics.
A large part of the city, including the banks of the Seine, is a UNESCO World Heritage Site.

The city has the second highest number of Michelin-starred restaurants in the world (after Tokyo, which is much larger) and contains numerous iconic landmarks such as the Eiffel Tower, the Arc de Triomphe, Notre-Dame de Paris, the Louvre, the Moulin Rouge and the Basilique du Sacré Cœur, making it one of the most popular international tourist destinations in the world, with around 14 million tourists annually.

Fonte: en.wikivoyage.org/wiki/Paris
Licenza: creativecommons.org/licenses/by-sa/3.0/deed.it
#france #paris #capital #travel
QRcode DIB
Comment
Write a comment of 200 caracthers max and
select one Dibly corresponds to your thoughts.
You can enter Tag, Link e Mentions.
Report this Dib if you think it has violated the terms of use.
We will see it and if it does not conform we will remove it.
Do you need help? Consult the FAQ section!