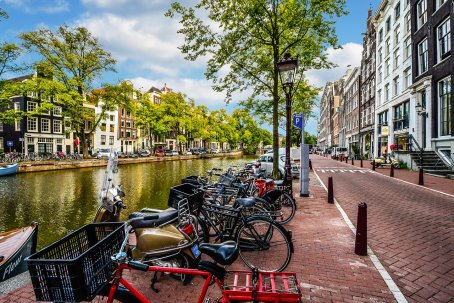 This counter indicates how much time
remaining to expiration of the Dib.
Amsterdam è la capitale dei Paesi Bassi, anche se il governo risiede a L'Aia. Si trova nella provincia di Noord-Holland.

La città vanta una storia di non-conformismo, di tolleranza e progressismo, ma non è tutto, vanta anche un patrimonio artistico di grande rilievo.
A differenza di grandi capitali europee e a somiglianza di molte città italiane, il suo centro storico è rimasto intatto e non è stato stravolto da costruzioni moderne.

Con oltre un milione di abitanti nella sua area urbana, è la città più grande del paese e il suo centro finanziario, culturale e creativa.Amsterdam è colloquialmente nota come la Venezia del Nord, a causa dei suoi incantevoli canali che attraversano la città, la sua architettura imponente e più di 1.500 ponti.
Nata come un piccolo villaggio di pescatori nel tardo 12 secolo, Amsterdam divenne uno dei centri commerciali più importanti del mondo durante l'età d'oro olandese del 17 secolo. Nei secoli 19 e 20, la città si espanse in tutte le direzioni, con molti nuovi quartieri e sobborghi progettati in stile modernista.
Il Distretto dei canali, per il suo significato culturale, è stato riconosciuto patrimonio mondiale dell'UNESCO nel 2010.

Fonte: it.wikivoyage.org/wiki/Amsterdam
Licenza: creativecommons.org/licenses/by-sa/3.0/deed.it
#olanda #paesibassi #amsterdam #viaggi
QRcode DIB
Comment
Write a comment of 200 caracthers max and
select one Dibly corresponds to your thoughts.
You can enter Tag, Link e Mentions.
Report this Dib if you think it has violated the terms of use.
We will see it and if it does not conform we will remove it.
Do you need help? Consult the FAQ section!