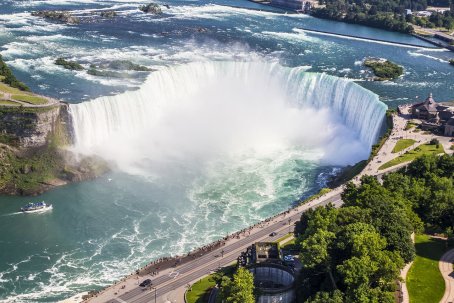 This counter indicates how much time
remaining to expiration of the Dib.
Le cascate del Niagara, situate a nord-est dell'America, tra gli USA e il Canada, sono per la loro vastità tra i più famosi salti d'acqua del mondo.

Non si tratta di cascate particolarmente alte (solo 52 m di salto) e la loro fama è certamente legata alla spettacolarità dello scenario, dovuto al loro vasto fronte d'acqua e all'imponente portata, indicata erroneamente da alcuni in 200.000 m3 al minuto - il dato riguarda infatti l'intero fiume Niagara e non il salto d'acqua, in quanto parte del flusso viene intercettato dalla centrale elettrica -, ma più realisticamente stimabile in oltre 168.000 m3 al minuto nel regime di piena e circa 110.000 m3 come media. Rappresentano ciononostante la più grande cascata dell'America settentrionale e tra le più grandi cascate al mondo oltreché essere, probabilmente, le più conosciute. Sono circa la metà, per dimensioni, delle cascate Vittoria in Africa (al confine tra Zambia e Zimbabwe).

Dal punto di vista geografico si trovano all'interno della regione denominata Niagara Peninsula, poco distanti dalla città canadese di St. Catharines; sono a circa mezz'ora di macchina dalla città statunitense di Buffalo e a circa un'ora e mezza da Toronto.

Fonte: it.wikipedia.org/wiki/Cascate_del_Niagara
Licenza: creativecommons.org/licenses/by-sa/3.0/deed.it
#cascate #niagara #fiume #america
Comment
Write a comment of 200 caracthers max and
select one Dibly corresponds to your thoughts.
You can enter Tag, Link e Mentions.
Report this Dib if you think it has violated the terms of use.
We will see it and if it does not conform we will remove it.
Do you need help? Consult the FAQ section!