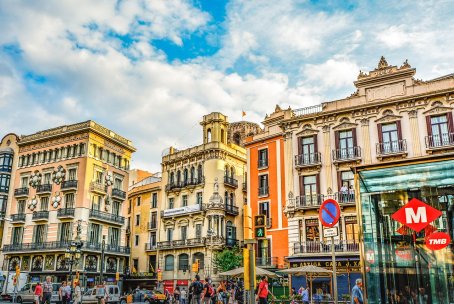 This counter indicates how much time
remaining to expiration of the Dib.
Barcelona is Spain's second largest city, with a population of nearly two million people, and the capital of Catalonia.

A major port located on the northeastern Mediterranean coast of Spain, Barcelona has a wide variety of attractions that bring in tourists from across the globe.
The many faces of Barcelona include the medieval Old Town, the unique street grid resulting from 19th-century urban planning.
The city has both long sandy beaches and green parks on the hills, pretty much side-by-side. Barcelona is also famous for a number of prominent buildings, of which perhaps the most-known are by the architect Antonio Gaudi, including his Sagrada Família, which became Barcelona's symbol to many.

Founded more than 2,000 years ago as the ancient Roman town Barcino, Barcelona is thus as historic as it is modern, with a constant flow of projects changing the face of the city and long-standing penchant for design and innovation.

Thanks to the wealth of attractions, a very well-developed accommodation base, a lively nightlife and a robust transportation system, Barcelona has become one of Europe's, and pretty much the world's, most popular tourist destinations.

Fonte: en.wikivoyage.org/wiki/Barcelona
Licenza: creativecommons.org/licenses/by-sa/3.0/deed.it
#spain #catalonia #barcelona #sagradafamília #travel
QRcode DIB
Comment
Write a comment of 200 caracthers max and
select one Dibly corresponds to your thoughts.
You can enter Tag, Link e Mentions.
Report this Dib if you think it has violated the terms of use.
We will see it and if it does not conform we will remove it.
Do you need help? Consult the FAQ section!